Difference between revisions of "Radiant Soul"
Jump to navigation
Jump to search
(2 intermediate revisions by one other user not shown)
Line 94:
Line 94:
 

<gallery widths=150px heights=150px>

 

<gallery widths=150px heights=150px>

 

File:Portrait - Radiant Soul.png|'''Radiant Soul''''s Portrait.

 

File:Portrait - Radiant Soul.png|'''Radiant Soul''''s Portrait.

 
+
 

</gallery>

 

</gallery>

 

<br>

 

<br>
---
Revision as of 20:55, 16 February 2019
Radiant Soul
Name
Laby
Class
Radiant Soul
Weapon
Mirror (Nisha), Punches/Kicks
Class Tree
> > > >
Release Date
27 December 2018
30 January 2019
30 January 2019
30 January 2019
31 January 2019
 ???
Statistics
Radiant Soul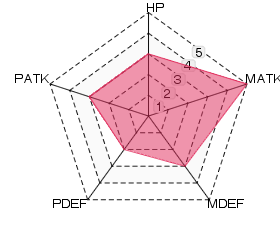 | | | | |
| --- | --- | --- | --- |
| Speed: | Slow | Average | Fast |
| Attack Range: | Short | Medium | Long |
| Difficulty: | Easy | Average | Hard |
| | | |
| --- | --- | --- |
| " | Laby and Nisha will help! So, everyone can be happy! | " |
Radiant Soul
[A soul that shines radiantly]
Become a radiant soul
by understanding and accepting
Nisha's sadness.
Background
Laby has been troubled ever since she'd realized the truth about Nisha. Laby promised that she would never forsake the bond with Nisha anymore. But, what will happen if she truly accepts Nisha? Even though they may have started as one, Nisha and Laby were now two separate entities. Laby was worried that when "Laby"and "Nisha" become one, that person will become something – someone… not "Laby", not "Nisha", but someone completely different.
Laby finally decides... If she still understands Nisha, and Nisha understands Laby, then maybe they don't need to become one. Nisha can still be Nisha, Laby can be Laby, and they can be together forever.
Nisha transforms, to share emotion with Laby. They will stay together, forever… Until the day all light fades to nothing.

Third Class Advancement
After unlocking Transcendence and reaching Lv. 99, you will be eligible to advance to the 3rd job. To receive the 3rd job quest, click on the job change notification located below the map select.
3rd Job can also be obtained by using the Item Mall item: Vows of Friendship
.
Radiant Soul
Clear Forgotten Elrian Sanctum once.
Collect 5 Traces of Primordial Chaos (Chrysalis, 11-6: Forgotten Elrian Sanctum).
Collect 20 Grand Compass Pieces (Skin Splitter, Elrianode).
Defeat 2,000 Henir Mutated Monsters in 11-3: Elrianode City and 11-4: Debrian Laboratory.
Defeat Spatio Reaper 30 times. Spatio Reaper can be found in 11-3: Elrianode City or 11-5: El Tower Defense.
Upon advancing to third job, you will receive:
Skill Tree
Skills
Passives
Locked
Level 99
Additional Combos
 : All damage values for new and preexisting combos receive a 1.15x multiplier during 3rd job.


Image
Description
Damage
Candy Punch

After diving down, perform two high-hitstun punches before launching forward 3 candy-shaped projectiles. The final candy launches enemies away.


140% Phy. Damage x1~3 + 267% Phy. Damage
161% Mag. Damage
192% Mag. Damage
188% Mag. Damage x2 + 430% Mag. Damage

Diving Twirl

After doing a single punch in the air, dive down together with Nisha before spinning Nisha around you to deal damage to nearby enemies.


183% Phy. Damage
306% Mag. Damage + 153% Mag. Damage x2
114% Mag. Damage x3
Skills
| | | |
| --- | --- | --- |
| Hyper Active | Force Change Skill | Passive |
Force Passive

Rare/Elite/Unique

Legendary

Force Ability

Rare/Elite/Unique

Legendary
Gallery
Artwork
Trivia
Alternative Names
| Server | Name | Translation |
| --- | --- | --- |
| South Korea | 라디언트 소울 | Radiant Soul |
| Japan | ラディアントソウル | Radiant Soul |
| Brazil | Alma Radiante | Radiant Soul |