Blazing Heart/ru
Jump to navigation
Jump to search
Пламенное Сердце
Name
Элизис
Class
Пламенное Сердце
Weapon
Огромный Клинок, Огонь
Class Tree
Элизис > Рыцарь Огня > Пламенное Сердце
Release Date
10 Октября 2013
23 Апреля 2014
24 Апреля 2014
29 Апреля 2014
29 Апреля 2014
14 Мая 2014

Statistics

Blazing Heart

Speed:
Slow
Average
Fast
Attack Range:
Short
Medium
Long
Difficulty:
Easy
Normal
Hard
Magical
| | | |
| --- | --- | --- |
| " | Хочешь потанцевать с моим огнём? | " |
Пламенное Сердце
Специальность
Став более искусной в обращении с пламенем, Пламенное сердце становится способна управлять им, сняв с него узды перчатками, которые дала ей Echo (en. Echo). Также, своими атаками, она оставляет на врагах огненные метки, которые впоследствии может взорвать.

История
Элизис продолжала искать местонахождение Шрама и демонов, всё время становясь всё сильнее и взрослее, следуя руководству Аделя.
| | | |
| --- | --- | --- |
| " | Мою силу предков... Стало трудно контролировать даже перчатками, которые она мне дала... | " |
Подразумевается игровой персонаж Echo на месте местоимения.
Во время путешествия по Feita(Фейте) алхимик Aллегро сказал ей:
-Я чувствую огромное количество огненной энергии в твоём сердце..., -сказал Аллегро, когда увидел Элизис пытающеюся контролировать свою силу.
-Много лет назад... Была легенда о воине, который мог свободно контролировать элемент огня... Воин имел тело из огня, и люди его называли "Пламенное Сердце". Я думал, что это всего лишь легенда... Но я удивлён, что увидел это собственными глазами! Пожалуйста! Разрешите мне помочь вам овладеть этой силой?

Благодаря помощи секретаря Аллегро, который знал древнюю историю в подробностях, Элизис смогла научится контролировать свою силу свободно, без перчаток. Так Элизис продолжает своё путешествие, и её пламя становится всё горячее, яростнее и свободнее от оков, которыми раньше было сдержано.

Смена Второго Класса
С 35 уровня, Рыцарь Огня может стать Пламенным Сердцем. Для Смена Второго Класса возьмите задание у Ariel(Ариель), которая есть в каждом городе. (NPC Банка)
Пламенное Сердце
Выбить 5 Nasod Alloy Memory из монстров обитающих в донжонах Altera.
Победить:
Выбить лут который падает из монстров в Feita.

10 Штук Glitter Necromancer.
10 Штук из Golems.
10 Штук из Glitter Soldiers.(Не включая Некроманта)
Древо Умений
Skills
Passives
Locked
Level 35
Level 40
Level 45
Level 50
Level 55
Level 60
Level 65
Дополнительные Комбо
Image
Description
Damage
NOTE: Flames Damage is calculated before Body of Fire.
Dancing Flames

Elesis does a circular swing, followed by a barrage of flame strikes before striking them away. During the 2nd flame strike, Elesis will release a small flame wave which can continuously damage the target.

160% Phy. Damage
220% Mag. Damage
80% Mag. Damage x3
250% Mag. Damage


Flame Burst

Instead of doing the normal uppercut, Elesis is able to shoot out flames while running. She is able to shoot up to 3 shots and still continue running. The fire shots explode on impact. While in between shots, pressing will make Elesis perform a overhead jump and burn anything in a arc shape and continue running.


100% Mag. Damage + 110% Mag. Damage (4 MP)
100% Mag. Damage + 110% Mag. Damage (4 MP)
100% Mag. Damage + 110% Mag. Damage (4 MP)
80% Mag. Damage x3

Умения
| | | | |
| --- | --- | --- | --- |
| Гипер Активный | Особые Умения | Активные | Пассивные |
Видио
Галерея
Пламенное Сердце при использовании умения. (Полный размер)
Click here to view drawing process.
Дополнительная Информация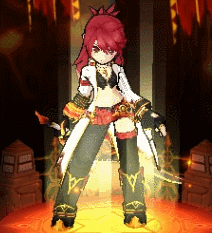 Idle pose has motion in which normally her hand will not have fire, and then she will flicker a spark into a flame.
As compared to Rune Slayer's outfit, it seems they share the same arm strap and vest design.
Although normally not noticeable, the glove which has the arm strap has a magical symbol emblem on it.
In her portrait, the flames on her hand are drawn differently than that which is shown in the teaser poster.
Более литературный вариант перевода: "Пылающее сердце" или "Сердце пламени". Общепринятым остаётся перевод: "Пламенное сердце"