Lu/Ciel/ja
From Elwiki
Demon Power
Name
Luciela "Lu" R. Sourcream
Ciel
Class
Demon Power
Weapon
Magic Gauntlets
Dual Gun Blades
Age
Unknown
24
Birthday
July 16th
January 20th
Height
141 cm (4 ft 7 in)
188 cm (6 ft 2 in)
Weight
Unknown
75 kg (165 lb)
Blood Type
Unknown
AB
Class Tree
> > >
> > >
> > >
Voice Actors
김현지 Kim Hyeonji
井口 裕香 Yuka Iguchi
 ???
Manuela Stüsser
Fátima Ayats
Caroline Combes
Debora Magnaghi
Paula Betscher
Hannah Peterson
Christiane Monteiro
김영선 Kim Yeongson
杉山 紀彰 Noriaki Sugiyama
JC Hyke
Moritz Pliquet
Hernán Hernández
Bertrand Nadler
Diego Baldoin
Krzysztof Chudzicki
Bruce Duncan
Márcio Araújo
Release Date
18 December 2014
1 July 2015
1 July 2015
1 July 2015
2 July 2015
15 July 2015
22 July 2015
Statistics
Lu / Ciel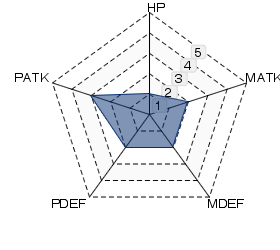 | | | | |
| --- | --- | --- | --- |
| Speed: | Slow | Average | Fast |
| Attack Range: | Short | Medium | Long |
| Difficulty: | Easy | Average | Hard |
"

Status, honor, power. I've lost everything.
Before the embers of my life go out.... will you...
...become my royal strength...? -Lu


"
"

I'll retake the throne...
I'll give my soul for you...
The contract is complete. -Ciel


"
Lu / Ciel
専門
ル・シエルは悪魔の王女ルーのユニークなタグゲームであり、ヒットマンはハーフデーモンのバトラシーになった。この危険なデュオは、ルーの魔法の爪とシエルの銃剣を組合せ、壮大な長距離戦闘を可能にします。呂は甘やかしされた子供のように見えるが、シエルは彼女を世話する気にしない。


特殊能力
: 主要記事:組み合わせ
タグ・チームのプレイスタイルを持つデュオのキャラクターではルーとシエルはマナを共有せず、「組み合わせ」とも知られている特別なシステムも持っていますルーレは、シエルのいずれがタグ付けされる、非アクティブキャラクターは毎週6 MP(PvP 1MP)を素早く復しますル・シエルは「コンビネーションゲージ」として知られる第4のリソースを持っています「コンビネーションゲージ」はコンビネーションスキル専用のもので、プレイヤーが通常のアイコンやスキルを切替えたときにのみ使用できます。 デオキャラクターをプレイスタイルにすることでプレイヤーは特別なメニックにアクセスすることができますプレイヤーは町やダンジョンの両方でル・シエルとしてプレイ、ファイル:Switching.png「V」 (デフルトのキーで、戦闘が可能な場所でのみ使用可能)コンボ、スキル「V」キーで切り換え、切り換えられる文字をヒットすることはできませんが、文字を切り換えてヒットすることができます、コンビネーションゲージそれは満たされません。


背景
: 主要記事:Backalley of Lanox
デーモン君主ルーは、悪魔の世界を逃れるためにすべてのマナを使い果たした後、小さな子供としてエリリオに現れます。彼女のしもべの裏切りのために、彼女は彼女のすべて力と財産を失った彼女の名前は彼女が覚えているすべてのものだ。まるで、悪魔の世界の暗殺者がLuのためにになってしまった。シエルという名前のヒットマンが弱い状態のルーを見つけ、彼女を連れて行く。来て、シエルは彼女を守るために命を与えます。
ちょうどその時、ルーはすべて覚えている。神秘的な契約は、彼女がハーフデマンとしてシエルを復活させることを可能にする、彼は彼女を代償として奉仕するつもりです。今、シエルの助けを借りて、陸はすべて取り戻すために出発す。一緒に、ルシエル、土地を悩ま悪魔を追求する危険なないデュオです。

Videos
Theme
Gallery
Alternative Names
Server
Name
Translation
South Korea
루
루시엘라 R 사워크림
Lu
Luciela R. Sourcream
Japan
ルー
Lu
Taiwan (Traditional Chinese)
露
Lu
China (Simplified Chinese)
露
露西艾拉 · R · 索克莉姆
Lu
Luciela R. Sourcream

| Server | Name | Translation |
| --- | --- | --- |
| South Korea | 시엘 | Ciel |
| Japan | シエル | Ciel |
| Taiwan (Traditional Chinese) | 希爾 | Ciel |
| China (Simplified Chinese) | 希尔 | Ciel |
Lu / Ciel
In the case of
specialty
Le Ciel is a unique tag game of Devil's Princess Rou and the hit man became a half daemon Batracy. This dangerous duo combines Rou's magical nails and Ciel's bayonet, enabling spectacular long range fighting. Lu looks like a spoiled child, but Ciel does not mind taking care of her.


Special abilities
Main article: Combination

In Duo's character with the tag / team's play style, Lu and Ciel do not share mana but also have a special system also known as "combination" Lu is one of the charas tagged, non The active character quickly returns 6 MP (PvP 1 MP) every week Le Ciel has the 4th resource known as "combination gauge" "Combination gauge" is only for combination skill, It can be used only when switching icons and skills. Players can access special menus by playing the duo character. Players play as Lu Ciel in both towns and dungeons,

"V" (Default You can use it only in places where battle is possible with combo) Combo, Skill It is not possible to hit characters switched by the "V" key, but you can hit by switching characters, Combination Gauge It will not be satisfied.


Background
Main article: [[Backallley of Lanox]

Daemon monarch Rou expires all mana to escape the devil 's world, then appears in Eriillio as a small child. Because of her servant's betrayal, she lost all her power and wealth her name is all that she remembers. As if the assassin of the demonic world became for Lu. A hit man named Ciel finds a weak state of ru and takes her. Come, Ciel gives life to protect her.
Just then, Lu remembers everything. A mysterious contract makes it possible for her to revive Ciel as a half-demon, he will serve her as a price. Right now, with the help of Ciel, the land departs to regain all. Together, Luciel is a dangerous duo who plagues the land and pursues the devil.

Videos
Theme
Gallery
Alternative Names
Server
Name
Translation
South Korea
루
루시엘라 R 사워크림
Lu
Luciela R. Sourcream
Japan
ルー
Lu
Taiwan (Traditional Chinese)
露
Lu
China (Simplified Chinese)
露
露西艾拉 · R · 索克莉姆
Lu
Luciela R. Sourcream

| Server | Name | Translation |
| --- | --- | --- |
| South Korea | 시엘 | Ciel |
| Japan | シエル | Ciel |
| Taiwan (Traditional Chinese) | 希爾 | Ciel |
| China (Simplified Chinese) | 希尔 | Ciel |