System Wierzchowców
Jump to navigation
Jump to search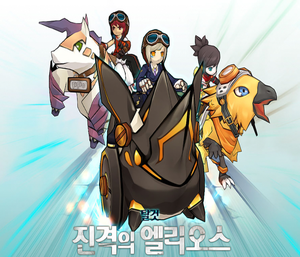 Wierzchowce
2 Maja 2013 na koreańskim serwerze został wprowadzony system wierzchowców.

Jak zdobyć wierzchowca

Wierzchowca można zdobyć analizując skamieniałości za pomocą analizatora skamieniałości, który można nabyć w Item Shop za 70 monet EL. Otwierając skamieniałość jest szansa na zdobycie losowego wierzchowca na własność. Trzeba jednak być świadomym, że nie tylko wierzchowce można zdobyć ze skamieniałości. Wypadają również np. odłamki eldrytu czy jedzenie dla zwierzaka, dlatego nie ma 100% pewności na zdobycie wierzchowca. Czasem gdy nowy wierzchowiec został nowo wprowadzony, można go nabyć w item shopie przez pewien czas za 1900 monet EL. Innym sposobem na zdobycie wierzchowca jest odkupienie go od innego gracza lub kupienie na tablicy.



Jak aktywować wierzchowca
Jeżeli jesteś szczęściarzem, który zdobył wierzchowca ze skamieniałości lub kupił go, powinieneś znaleźć w ekwipunku (zakładka Specjalne) 1 z poniższych kamieni przywołania wierzchowca.

| Ikona | Nazwa wierzchowca | Ikona | Nazwa wierzchowca |
| --- | --- | --- | --- |
| | Wietrzna Kousika (바람의 코우시카) | | Rydwan MobiRT (돌진 전차 모비RT) |
| | Antyczny Buras (에이션트 라이딩 뽀루) | | Skorpion Ponggo TYPE-R (퐁고 스콜피온 TYPE-R) |
| | Lodowy Smok (아이스 하멜링) | | Ognisty Smok (파이어 하멜링) |
| | Czarny Smok (다크 하멜링) | | Eve Custom - Oberon 650 (이브 커스텀-오베론650) |
| | Eve Custom - Black Skull (이브 커스텀-블랙 스컬) | | Eve Custom - Angel Heart (이브 커스텀-엔젤 하트) |
| | Naver Ancient Phoru (네이버 에인션트 뽀루) | | Holy Fox - Red Spirit (비호선 - 적령) |
| | Moby Chariot RT - Blue Storm | | Moby Chariot RT - Golden Fire |
| | Moby Chariot RT - Sweet Blossom (돌진 전차 모비RT 커스텀) | | Teddy Bear - Brown (테디베어 - 브라운) |
| | Teddy Bear - White (테디베어 - 화이트) | | Ponggo Scorpion TYPE-E |
| | Moby ver. Mini | | Ramiel (라미엘) |

Za pomocą prawego kliknięcia myszki, wierzchowiec pojawi się na twojej liście posiadanych wierzchowców. (UWAGA! Gdy dodasz go do listy wierzchowców, kamień przywołania zniknie i nie możesz go już sprzedać). Do listy wierzchowców można dostać się przez listę zwierzaków. Dodana została dodatkowa zakładka po aktualizacji wprowadzającej wierzchowce.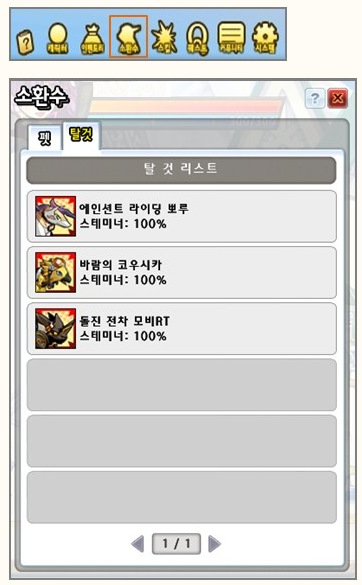 Interfejs wierzchowca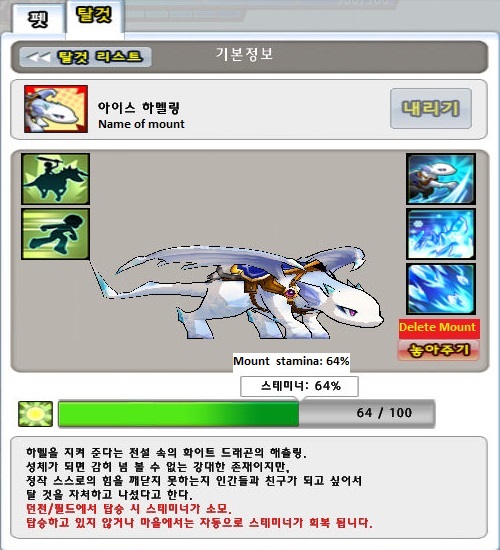 Jeżeli nie chcesz USUNĄĆ swojego wierzchowca na zawsze, nie naciskaj czerwonego przycisku.
Jak używać wierzchowców
Po kliknięciu w wybranego wierzchowca obok jego ikony pojawi sie przycisk Dosiądź.



Gdy przycisk zmieni się na Zsiądź to znaczy że jesteś na swoim wierzchowcu. Za pomocą wierzchowca można poruszać się na Planszach, Terenach i w Miastach.
Za pomocą klawisza F przywołasz ostatniego używanego wierzchowca, lub następnego po nim jeżeli ostatnio używany nie ma wystarczająco dużo wytrzymałości.

Wierzchowce posiadają pasek wytrzymałości podobny do paska woli.



Gdy wytrzymałość twojego Wierzchowca wyczerpie się, automatycznie z niego zejdziesz. Wytrzymałość wierzchowca regeneruje się gdy jesteś w mieście lub po prostu gdy jest nieużywany. Na Terenach można ją naładować nie schodząc z niego za pomocą klawisza V (siedzenie). Wytrzymałość jest konsumowana w następujący sposób: 1 punkt woli co 2,5 sekundy, natomiast regeneruje się z prędkością 1 punkt co 7 sekund. W przypadku gdy regenerujemy wytrzymałość dając wierzchowcowi usiąść na Terenach, regeneruje się 1 punkt co 3 sekundy.
Wytrzymałość jest zużywana na Planszy i Terenach.

Special Abilities of Mounts
While in dungeons, riding on your mount will change all your skills to Mount Attack Skills. Each Mount has a different set of skills available, and they can be used by pressing the 'Z', 'X', 'C' buttons. Movement of Mounts will also be different, for example: Cockatrice will be able to double jump, and Ponggo Scorpion TYPE-R is able to air run.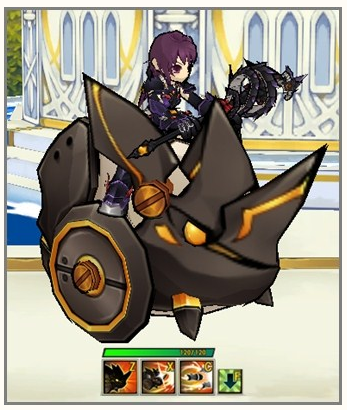 Another Use of Mounts, is that you will acquire a buff, giving the following bonuses:
Default Movement Speed is increased(Walk Speed 700, Dash Speed 1000)
Damage received decrease by 50%
Activation chance of some Elements are increased (+2%)
HP recovery is also increased (+2.5% every 5 seconds)
Mounts Skill Information
Here is a list of Mounts and their skills which are currently in the game.
After 9th June 2013 Patch, mounts damage is all 'Average Physical and Magical Attack'
All mount's skills have same cooldown and MP Cost for each mount.

Z attacks has no cooldown.
X attacks has 5 seconds cooldown.
C attacks has 10 seconds cooldown and requires 150 MP.
Cockatigle
(바람의 코우시카)

Z Attack
X Attack
C Attack
Pecks
Pecks 3 times at targets.
Pecks: 222% x3.
Jump Z, Dash-jump Z: Tail Whip
Damage: 336% x2.
Eye Laser
Fires a laser from its eye, similar to a normal cockatrice monster.
Laser: 156% x16.
Flint energy bolt
Fires a giant beam from its mouth.
Laser: 261% x8.
Special Movement
Able to double jump.
Elemental Activation Chance
Poison and Plagued (+2%)
Filmy
Przejdź do podstrony z filmami
Ciekawoski
Rydawan Moby jest bazowany na jednym z dronów Eve.
Wietrzna Kousika przypomina Chocobos z serii "Final Fantasy".
Czarny Smok jest podobieństwem Nocnej Furii z filmu "Jak wytresować smoka".