Système de montures
From Elwiki
Système de montures
Le système de montures a été introduit le 23 janvier 2014 sur les serveurs européens.

Comment obtenir une monture

You may purchase a Mount 'Ice Burner' item called an Ancient Fossil Discriminator (NA : Fossil Readers) in the cash shop for 900NX. (NA : 100 K-Ching) Opening this special 'Ice Burner' will give you a chance at acquiring a random mount of your own. Do note that not only Mounts are obtainable from Ancient Fossil Discriminator, other rewards for example are: Pets, Lv 7, Lv 8, Lv 9 upgrade scrolls, some pet food and Elstones. After purchasing an Ancient Fossil Discriminator, you will also need to make an Unidentified Ancient Fossil at the alchemist in every town by combining 5 Magical Ice Powder and 1 Elixir of Alche.
Une autre façon d'obtenir une monture est d'en acheter une au Marché.
After the 13th November 2014 KR Patch, you can now obtain previously released limited edition pets from Ancient Fossil Discriminators (ex: Miho, Thanatos).
Comment avoir une monture ?
En utilisant un analyseur de fossiles achetable à l'Elromarché, vous pourrez obtenir une des 3 montures présentes dans les fossiles (descendez plus bas pour voir la liste des montures disponibles dans les fossiles).

Icône
Nom de la monture
Icône
Nom de la monture
Kousika du vent
Char MobiRT
Porou ancestral
Pongo-Scorpion Type-R
Dragon de glace
Dragon de feu
Dragon noir
Obéron 650 Personnalisé d'Ève
Crâne Eve Custom
Cœur d'ange Eve custom
Char MobiRT - Blue Storm
Char Mobi RT - Golden Fire
Char MobiRT - Sweet Blossom
Pongo-scorpion type-E
Mini-Mobi
Cauchemar
Senar
Renard sacré - esprit rouge
Ramiel
Méca-nasod
Nounours (ours brun)
Nounours (ours blanc)
Askalon
Renard sacré - esprit des ténèbres
Vassal de Raul

En faisant un clique droit dessus, la monture sera ajouté a la liste des montures. Il y a une deuxième fenêtre pour accéder a la liste des montures.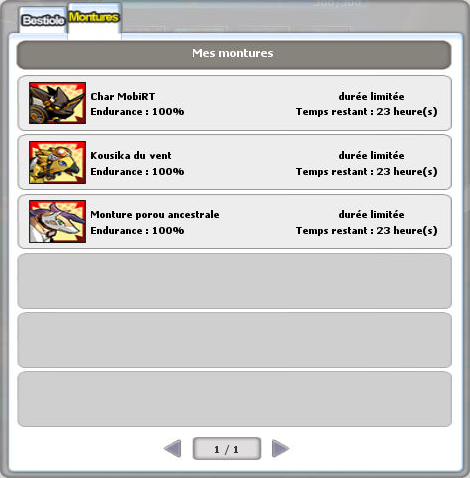 Interface des montures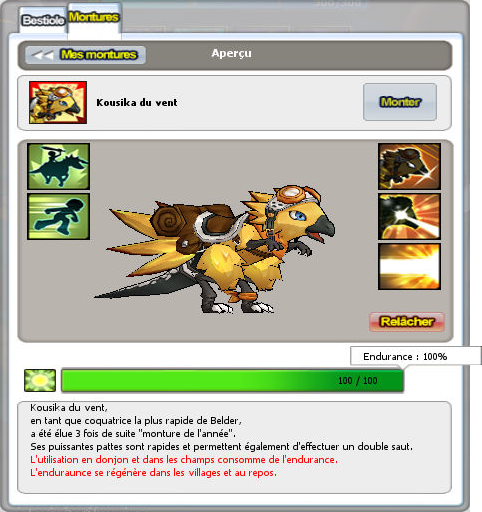 Unless you want to permanently

RELÂCHER

your mount, do not press the red button.
Comment utiliser les montures
After clicking on the Mount you want to use, next to their icon would have a button as shown below.



The left picture is showing the Mount is kept. After pressing the button next to the icon, it will change to the right Picture, meaning you are on your Mount. You are able to go into Mount Mode in Fields/Dungeons/Towns.
A shortcut for going into Mount Mode is by pressing the button 'F'.
Like normal pets, Mounts also have a Stamina bar.



After your Mount's stamina is consumed, it will automatically go out of Mount Mode. Its stamina bar will regenerate when you are in town or if you're off Mount Mode in dungeons and fields. Stamina is consumed at a rate of approximately 1 point every 2.5 seconds and is regained at a rate of approximately 1 point every 7 seconds.Stamina also recover when you let your mounts sit down in fields with a rate of 1 point every 3 seconds.

Habilités spéciales des montures
While in dungeons, riding on your mount will change all your skills to Mount Attack Skills. Each Mount has a different set of skills available, and they can be used by pressing the 'Z', 'X', 'C' buttons. Movement of Mounts will also be different, for example: Cockatrice will be able to double jump, and Ponggo Scorpion TYPE-R is able to air run.



Another Use of Mounts, is that you will acquire a buff, giving the following bonuses:
Default Movement Speed is increased(Walk Speed 700, Dash Speed 1000)
Damage received decrease by 50%
Activation chance of some Elements are increased (+2%)
HP recovery is also increased (+2.5% every 5 seconds)
Montures disponibles et leurs compétences
Ceci est la liste des montures et leurs compétences.
Les dégâts des montures sont la moyenne de l'attaque et de l'attaque magique.
Les compétences de toutes les montures ont le même temps de rechargement et coût en PM.

L'attaque W n'a pas de temps de rechargement.
L'attaque X a un temps de rechargement de 5 secondes.
L'attaque C a un temps de rechargement de 10 secondes et requiert 250 PM.

Avant la mise à jour du 29 avril 2015, le coût en PM de l'attaque C était de 150 PM.
Kousika du vent

Z Attack
X Attack
C Attack
Pecks
Pecks 3 times at targets.
Pecks: 222% x3.
Jump Z, Dash-jump Z: Tail Whip
Damage: 336% x2.
Eye Laser
Fires a laser from its eye, similar to a normal cockatrice monster.
Laser: 156% x16.
Flint energy bolt
Fires a giant beam from its mouth.
Laser: 261% x8.
Special Movement
Able to double jump.
Elemental Activation Chance
Poison and Plagued (+2%)
Vidéos
Anecdotes
Le char MobiRT est basé sur l'un des gravitons d'Ève.
Ramiel l'un des sept archanges, il peut aussi s'appeler Rémiel.