Space Leap
From Elwiki
| | |
| --- | --- |
| | [Passive] Learns the most efficient way to teleport. Grants the ability to teleport downwards. Grants an additional damage buff when teleporting. Reduces the overall MP cost of casting multiple teleport spells in PvP. |
Requirements
Skill Information
Skill Level
Level Required
Intense Strike
Extra MP Cost per Teleport
Additional Damage
Duration
1
60
+12.5%
5 Seconds
-10%
2
67
+15%
10 Seconds
-20%
3
69
+17.5%
15 Seconds
-30%
4
99
+20%
20 Seconds
-40%
Tips and Details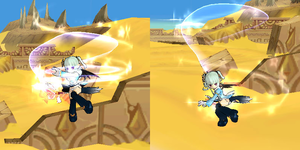 This effect only applies to combo, teleporting after being knocked down, or using Teleport.
Aisha is surrounded by a light purple glow while the buff is in effect.
Rings appear when teleporting to signify the buff activating. The rings do not appear if the buff is already in effect.

The buff duration is still reset by continuous teleporting.
Updates
05/15/2014 KR
08/06/2015 KR

Added effect to reduce extra MP cost per Teleport.
Buff duration increased to 15 seconds

11/03/2016 (KR) / 11/23/2016 (NA)

Additional Damage Increase decreased.
Alternative Names
| Server | Name | Translation |
| --- | --- | --- |
| South Korea | 공간 도약 | Space Leap |
| Japan | 空間跳躍 | Space Jump |
| China (Simplified Chinese) | 空间跳跃 | Space Leap |
| France | Téléportation | Teleportation |