Dark Force
Jump to navigation
Jump to search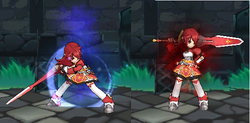 [Passive] Chivalry Auras change after absorbing the Dark Force. All skill's magical damage will be converted to physical damage.
Gale: Gale attacks while in Gale Mode will receive special features.

Gale command/skill will restore part of its damage as HP if it hits the enemy.

Annihilation: Annihilation attacks while in Annihilation mode will do more damage.

Annihilation command/skill have increased damage.
Requirements
Skill Information
PvE/PvP
Skill Level
Level Required
Gale
Annihilation
Command and Skill HP Recovery On Hit
(Percentage of Damage)
Command and Skill Attack Power Increase
1
15
2.5%
2.5%
2
31
5%
5%
3
39
7.5%
7.5%
4
83
10%
10%
Trivia
The color of Elesis' Gale and Annihilation auras becomes darker, due to the incorporation of darkness.
Updates
Date
Changes
KR
NA
PvE
PvP
08/13/2014
01/28/2015
08/28/2014
-

▲ Annihilation skill damage increase added.
▼ Annihilation HP consumption reduced removed.

09/03/2015
-

▼ HP recovery decreased when in gale.

04/21/2016
05/18/2016

▲ HP recovery increased when in gale.

06/15/2017
06/28/2017

▼ HP Recovery decreased.
▼ Command/Skill Damage Increase decreased.
Chivalry Gauge Gain & Consumption Increase decreased.

07/04/2019
07/31/2019

▲ Added an effect that changes all magical skills to physical skills.
▼ Chivalry Gauge Gain & Consumption Increase effect removed.
Alternative Names
Server
Name
Translation
South Korea
다크 포스 - 어둠의 양면
Dark Force - Two Sides of the Dark
Japan
ダークフォース
Dark Force
China (Simplified Chinese)
黑暗之力
Dark Force
North America
Dark Force - Two-Faced Darkness (prior to the February 17, 2016 update)
Germany
Dunkle Macht
Dark Force
Spain
Fuerza oscura
Dark Force
France
Côté obscur
Dark Side
Italy
Forza oscura
Dark Force
Poland
Mroczna Moc
Dark Force
United Kingdom
Dark Power
Brazil
Força das Trevas
Darkness Force