Dark Force
Jump to navigation
Jump to search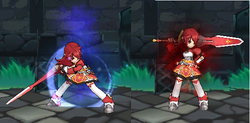 [Passive] Chivalry Auras change after absorbing the Dark Force. Gale/Annihilation gauge's gain and usage becomes faster.


Gale: Gale attacks while in Gale Mode will receive special features.

Gale command/skill will restore part of its damage as HP if it hits the enemy.

Annihilation: Annihilation attacks while in Annihilation mode will do more damage.

Annihilation command/skill have increased damage.
Requirements
Skill Information
Skill Level
Level Required
Chivalry Gauge Gain
& Consumption Increase
Gale
Annihilation
Command and Skill HP Recovery On Hit
(Percentage of Damage)
Command and Skill Attack Power Increase
1
15
5%
2.5%
2.5%
2
31
10%
5%
5%
3
39
15%
7.5%
7.5%
4
83
20%
10%
10%
Trivia
The color of Elesis' Gale and Annihilation auras becomes darker, due to the incorporation of darkness.
Updates
Date
Changes
KR
NA
08/28/2014
-

▲ Annihilation skill damage increase added.
▼ Annihilation HP consumption reduced removed.

09/03/2015
-

▼ HP recovery decreased when in gale.

04/21/2016
05/18/2016

▲ HP recovery increased when in gale.

06/15/2017
06/28/2017

▼ HP Recovery decreased.
▼ Command/Skill Damage Increase decreased.
Chivalry Gauge Gain & Consumption Increase decreased.
Alternative Names
Server
Name
Translation
South Korea
다크 포스 - 어둠의 양면
Dark Force - Two Sides of the Dark
Japan
ダークフォース
Dark Force
China (Simplified Chinese)
黑暗之力
Dark Force
North America
Dark Force - Two-Faced Darkness (prior to the February 17, 2016 update)
Germany
Dunkle Macht - Zwei Seiten
Dark Force - Two Sides
Spain
Fuerza oscura - dos caras
Dark Force - Two Faces
France
Côté obscur
Dark Side
Italy
Potere oscuro - Due facce
Dark Force - Two Faces
Poland
Mroczna Moc - Dwie Strony
Dark Force - Two Sides
United Kingdom
Dark Force - Two Sides
Brazil
Força das Trevas
Darkness Force