Elsword: Evolution
From Elwiki
Elsword: Evolution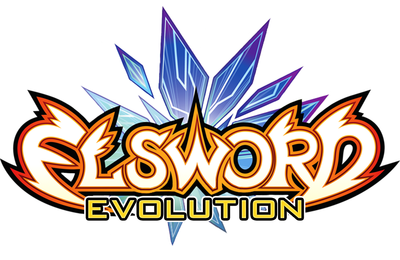 Elsword: Evolution was a mobile game based on Elsword, available for download on iOS and Android devices. As of July 20th, 2018, the game service was officially ended.
Gameplay Mechanics
The dimensions of this game is the same as it's PC counterpart, being 2.5D. The controls are displayed on the left and right side of the screen. The player can equip up to 3 skills unlike the previous and has a jump button above the attack button. The energy system works differently as it's used to play missions that provide a fixed amount EXP when completed. Energy can be gained by waiting 5 minutes to restore 1 Energy point or doing quests that provides it.
Dungeons
There are different kinds of dungeons. Each with their unique properties. In "Challenge" tab, there are two kinds of dungeons: Normal and Elite. There are challenge stars that provide stars to the player when they complete the sub mission. When the player has obtained enough stars, they can open a reward chest and take it's contents. Normal Dungeons provide the standard reward of EXP, gold and gear. Their 3 star challenges are: Complete the Stage, No HP potion, and Stage Clear XX:XX. HP potions are an item that heals the player to full HP. The players can use fruit to raid the dungeon for the rewards and bonus EXP. Elite Dungeons provide different rewards. They provide Secret Stones, Magic Stones, and Aura. The player can't use potions in these dungeons and their 3 star challenges are: Complete the Stage, Remaining HP 30%, and Stage Clear XX:XX. These dungeons consume Energy to redo after completed with 3 stars. The player can raid without the usage of fruit for these ones.
Equipment
There are 5 equipment rarities of different colors: White, Green, Blue, Purple, and Orange. There are different color stats which can correspond to the equipment. You can use Blue or higher gear to refine gear of higher quality by randomly choosing one of the stats of the gear being sacrificed. You can overwrite a stat by selecting a stat you wish to overwrite and doing the same process.If the result is not what was intended, you can pay

20 to restore the stat sacrificed. When the gear you equip has a stat that can be overwritten by a better stat, the gear that holds it will be marked by a red arrow.
Skills
Skills are unlocked at certain levels which can be upgraded with skill points. When the character is below level 40 they can reset their skill points for free. Once above level 40, the player must pay

40000 to reset their skill points. When the skill reaches a certain level, it will take a new form resembling skills from the computer version of Elsword (ie: Fury Cyclone at it's 3rd form resembles Storm Blade).
Costumes
Arena
Mounts
Stamina
Characters
Gallery
External Links
Alternative Names
| Server | Name | Translation |
| --- | --- | --- |
| South Korea | 엘소드 슬래시 | Elsword Slash |
| Taiwan (Traditional Chinese) | 艾爾戰紀 | El's War |
| China (Simplified Chinese) | 艾尔战记 | El's War |