Energetic Heart
Jump to navigation
Jump to search
[Special Active: Tenacity] Runs a powerful amount of energy through the core to release energy.
Create Fusion Field

Activates Amplify/Spectrum/Reactive Force Fields at the same time.

Final Enhanced Skill

Boost limit removed. Additional boosts cost 8 MP.
Requirements
Skill Information
PvE
Level Required
Energetic Heart
MP Usage
Cooldown
Extra Boost
Duration
Number
MP Usage
55
+3
5 MP
30 Seconds
100 MP
15 Seconds
[Enhanced]
Infinite
8 MP
PvP
Fusion Mode Information
| Beam / Electron Damage | Max Hits |
| --- | --- |
| x0.25 | Varies per skill |
PvE
Reversed Energetic Heart
Killing Blow (1) Energetic Heart
Attribute Effect
MP Usage
Cooldown
Attribute Effect
Energetic Heart Duration
MP Usage decreased to 50%
Cooldown increased to 150%
50 MP
22.5 Seconds
Skill effect's duration increased to 120%
36 Seconds
PvP
Related Skills
Tips and Details
Fusion mode essentially combines the effects of all other fields, with the exception of Amplify mode.

All beams, electron balls / triangles and electric spears will split into 3 just like Spectrum mode.
All beams, electron balls / triangles and electric spears will gain the same properties provided by Reactive mode, such as homing and piercing. See Ultra Optical Investigation for more info on how certain skills react.

The total hit count of most skills will increase by roughly 6 times, though this varies for certain skills.
Functionally similar to Queen's Throne, activating her core to produce wings that provide additional movement while enhancing herself in various ways.
If El Crystal Spectrum is used while the buff is active, the buff will be removed.
Trivia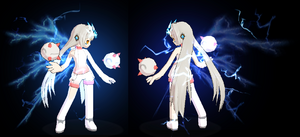 When this skill is active, Eve will grow electronic "wings".
There is a glitch where the wings stay upon her, but fusion mode is lost, and El Crystal Spectrum change interval is changed from 0.5 to 0 and becomes spammable.
Energetic Heart is the only skill that can be identified by Heroic Equipment that cannot deal any damage.
Updates
Date
Changes
KR
NA
PvE
PvP
08/30/2012
09/04/2013
07/04/2013
-

▲ Cooldown time increased.

02/05/2015
-

▼ Number of Extra Boost decreased.
▼ Duration decreased.

01/14/2016
-

Fixed Energetic Heart effect lasting infinitely in certain cases.

06/30/2016
-
08/11/2016
-

Fixed issue where cannot recover MP.

11/16/2016
-
07/27/2017
-

▼ Freeze Frames decreased.
▼ Cooldown increased.

01/17/2019
02/20/2019

▲ Able to move after skill earlier.

06/20/2019
07/17/2019

▲ Cooldown decreased.
Can cancel Energetic Heart buff by using El Crystal Spectrum.

No longer used icon.

07/18/2019
-

Fixed homing not working properly in certain situations.
Alternative Names
Server
Name
Translation
South Korea
에너제틱 하트
Energetic Heart
Japan
エナジェティックハート
Energetic Heart
China (Simplified Chinese)
充能核心
Charge Core
Germany
Starkes Herz
Strong Heart
Spain
Corazón fuerte
Strong Heart
France
Cœur cybernétique
Cybernetic Heart
Italy
Cuore forte
Strong Heart
Poland
Silne Serce
Strong Heart
United Kingdom
Strong Heart
Brazil
Coração de Energia
Energetic Heart