Energetic Heart
Jump to navigation
Jump to search


[Special Active: Tenacity] Increases the core's maximum output power to go into a stronger state. Activates Fusion Mode.
Create Fusion Field

Activates Amplify/Spectrum/Reactive Force Fields at the same time.
Other force fields will not activate through El Crystal Spectrum while Fusion Field is active.

Final Enhanced Skill

Boost limit removed. Additional boosts cost 8 MP.
Requirements
Skill Information
PvE
Level Required
Energetic Heart
MP Usage
Cooldown
Extra Boost
Duration
Number
MP Usage
55
+3
5 MP
30 Seconds
100 MP
30 Seconds
[Enhanced]
Infinite
8 MP
PvP
Fusion Mode Information
Max Hits
Beam/Electron
Ball Damage
x6
x0.25
PvE
Reversed Energetic Heart
Killing Blow (1) Energetic Heart
Attribute Effect
Details
Attribute Effect
Details
MP Usage
Cooldown
Duration
MP Usage decreased to 50%
Cooldown increased to 150%
50 MP
37.5 Seconds
Skill effect's duration increased to 120%
36 Seconds
PvP
Killing Blow (1) Energetic Heart
Details
Duration
18 Seconds
Related Skills
Tips and Details
In this mode, all El Crystal Spectrum-affected combos will generate a force field which will combine all the Modes. The range and speed of projectiles will be greatly increased and will have the homing ability attached. Like "Reactive Mode", Beams/Electrons will gain piercing property (meaning Electron balls/Beams/Electrons can hit twice) and Penetration Electrons will only hit once. The number of homing beams/electrons is 3*(the number of hits in normal mode) and deals 25% damage per hit. Electron balls and Penetration Electrons will multiply by 3 and deal 50% damage per hit. All damage dealt with Spectrum-affected combos will deal a total 50% additional damage; however, like Reactive mode, only Sweep Rolling can deal full damage to multiple targets. Overall, Fusion Mode increases to 150% damage if everything hits.
Similar to Queen's Throne, Eve will receive a buff while adding more air boost.
Trivia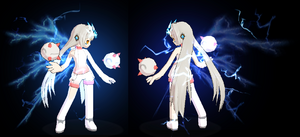 When this skill is active, Eve will grow electronic "wings".
There is a glitch where the wings stay upon her, but fusion mode is lost, and El Crystal Spectrum change interval is changed from 0.5 to 0 and becomes spammable.
Energetic Heart is the only skill that can be identified by Heroic Equipment that cannot deal any damage.
Updates
Date
Changes
KR
NA
PvE
PvP
07/04/2013
-

▲ Cooldown time increased.

02/05/2015
-

▼ Number of Extra Boost decreased.
▼ Duration decreased.

01/14/2016
-

Fixed Energetic Heart effect lasting infinitely in certain cases.

06/30/2016
-
08/11/2016
-

Fixed issue where cannot recover MP.

11/16/2016
-
07/27/2017
-

▼ Freeze Frames decreased.
▼ Cooldown increased.

01/17/2019
02/20/2019

▲ Able to move after skill earlier.
Alternative Names
Server
Name
Translation
South Korea
에너제틱 하트
Energetic Heart
Japan
エナジェティックハート
Energetic Heart
China (Simplified Chinese)
充能核心
Charge Core
Germany
Starkes Herz
Strong Heart
Spain
Corazón energético
Energetic Heart
France
Cœur cybernétique
Cybernetic Heart
Italy
Cuore forte
Strong Heart
Poland
Silne Serce
Strong Heart
United Kingdom
Strong Heart
Brazil
Coração de Energia
Energetic Heart