Ara/hu
From Elwiki
| | | |
| --- | --- | --- |
| " | Until I face my brother again... I cannot give up! | " |
Ara
Specialty
Ara is a skilled martial artist that uses a spear. She is a highly versatile character, with extremely long melee attack range, as well as superior attack speed and mobility. Having an air-dash in addition to the double jump, Ara's aerial mobility rivals that of Eve, who is known for having remarkable overall movement freedom. Her range also allows her to catch enemies in her combos from a safe distance, and even hit enemies behind, above, and below her easily. Ara also has a unique trait to her different from others, as she uses "Spirit Energy" which can be used as substitution of MP.

Special Ability
Main Article: Eun
Ara has a special system called Spirit Energy. Ara's Awakening is similar to that of Chung's Freiturnier in that 3 awakening beads will bring on a change in appearance. In Ara's case, she gains the tails of a 9-tailed fox, and white hair.

Background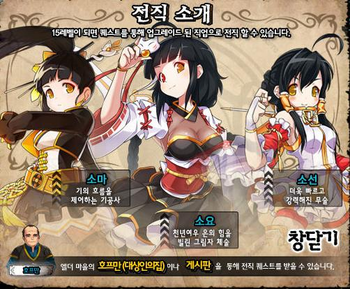 Ara Haan was born in town of Fahrmann, in the Xin Empire located in the Northern Fluone continent. Ara's village housed a large shattered El-fragment. This particular fragment radiated powerful moon energy.
Ara is the daughter of the Haan Family, a warrior family that protected the seal of the Nine-Tailed-Fox for generations. At first glance, Ara looks like a kind and polite girl, but because of her family's influence, she is actually a highly skilled martial artist and spear wielder. Her brother, Aren Haan, began his training early and was able to become strong enough to become the Defense Captain of Fahrmann's capital. On one night, the village Ara had lived in had been attacked by an army of demons to take the village's Moon Elstone. Ara tried her best to fight back, but was outnumbered and cornered. In the destruction, Ara fell into a room containing a mysterious altar. A large hairpin that was pinned to the altar was thrown across the floor. Ara is approached by her brother, Aren, who is now Ran, the demon general who had led the invasion. Aren, who had inherited his strong spirit from the moon, had been corrupted and reborn as Ran due to the Dark El contaminating the moon's power. Ran had conquered Fahrmann's capital and led his army to retrieve the village's El-fragment.
As Ran is about to kill Ara, the last survivor, she instinctively protected herself with the hairpin on the floor. The pin unleashed a powerful light and Ara fell unconscious. When she woke, Ara found herself alone in center of the village. The nine tailed fox had possessed her and fought the demons back, but the Moon Elstone had already been taken by them. Ara then hears the spirit's voice, Eun, who had been sealed in the pin for centuries. Eun makes a contract with Ara, she will lend Ara her power and help her find her brother, Aren. In exchange, Ara has to help Eun bring back the Elstone. Ara accepts, and they go on their journey to search for Aren.
The duo arrives to Hamel after hearing of the demon invasion there, but Ara is too late and can only find traces of the demons. She quickly encounters and fights Karis, a Demon general in the Halls of Water. With the help of Eun, Ara was able to fight off Karis and escape. She eventually comes across the ElTeam who mistake her for another demon due to Ara being in her Eun form. After the misunderstanding, Elsword tells Ara that they already had fought the demons and that Ran had escaped from the Water Temple. He offers Ara to travel with him and his team, as they may come across Ran again. Ara agrees, joining in hopes of finding her brother as well as the Moon El to fulfill her contract with Eun.

First Class Advancement
Ara is required to be Lv 15 to begin her first class advancement.
Little Xia

After completing the Little Xia quest chain, Ara can decide between advancing as a Little Hsien, Little Devil or Little Specter.
Click job names below to see what must be done after advancing to Little Xia.
Little Hsien Little Devil Little Specter

Skill Tree
Skills
Passives
Locked
Level 1
Level 5
Level 10
Level 15
Level 20
Skill Traits unlocked at Level 20.
Final Enhanced Skill unlocked upon advancing to 1st job class.
Combos
Combo
Description
Damage
Basic Z combo involving = Stab -> Pull -> Stab(x2) -> Spin(x3)(KD).

Physical Damage 100%
Physical Damage 120%
Physical Damage 70% (x2)
Physical Damage 50% (x3)


Z combo involving = Stab -> Pull, followed by a ground smash(KU) and backflip.

Physical Damage 100%
Physical Damage 120%
Physical Damage 150%


Z combo involving = Stab -> Pull -> Stab(x2) -> Spear Charge(HOLD) -> Charged Stab.

Physical Damage 100%
Physical Damage 120%
Physical Damage 70% (x2)
Physical Damage 50% +
Physical Damage 75% ~ 225% (x3)


Basic X combo involving = Spin -> Spin -> Spin(Stoic) -> Spin ~ Spin (Max x3).

This combo also hit enemies behind her, similarly to Sheath Knight's XXX~X combo.

Physical Damage 150%
Physical Damage 220%
Physical Damage 120% (x2)
Physical Damage 150% + 50% (x2)
Physical Damage 120% + 150%


X combo involving = Spin -> Spin -> Stab(Pull) -> Ground Slam(KU)

Physical Damage 150%
Physical Damage 220%
Physical Damage 100% + 20%
Physical Damage 220%


Single jump Upper-swing that does not knocks targets up.
Single jump Uppercut that knocks targets up.
After/While running, Stab(x2) -> (HOLD) Stab(x3)(KD).
After/While running, Ground Slam(KU).
After/While air jump, Swing -> Swing ->Swing(KD).

Physical Damage 100%
Physical Damage 150%
Physical Damage 150%


After/While air jump, stab the target's legs and pull herself behind targets.
Movement
Click Here.
Skills
| | | |
| --- | --- | --- |
| Special Active | Active | Couple Skill(Active) |
Videos
Theme
Gallery
Backstory of Ara in comic format.
Translated Version Click Here

A Skill Cutin of a genderbent Ara used to celebrate April Fools. Possible Reference: King Leonidas
Trivia
Eun is based off the fox, a species of creature depicted in the Shan Hai Jing as having the voice of a human infant. It can be eaten by humans, and those who eat it will be protected from evil.
Ara is the second character to have a surname after Chung.
Ara's base attack speed is remarkably high, requiring little to no attack speed to perform combos quickly.
Ara is the only character that does not speak her skill names in English when using skills.

This has NOT changed when being released and dubbed in different languages, while, in fact, she says various phrases instead.

Ara is the first character to have a different color outline or show of motion when attacking (Her outline is yellow, while all the other characters' outlines are blue).
Unlike the other characters, Ara's design is influenced by Eastern culture and religion.

In addition, her job names are written in Chinese in Korean Server.

Ara's job name, 小侠(Little Xia), means is a person who is young and brave/chivalrous in English.
Interestingly, her base and 1st class portrays her as having 8 tails in her Eun form, her 2nd classes portray her having 7, and her in game model seems to have up to 11.

However, the number of her in-game Eun Mode's tails has been fixed upon the release of Ara/Little Hsien in NA.

Depending on her job path, Ara's motives for fighting the demons drastically differ.

In her Sakra Devanam path, Ara fights the demons in the name of justice, to help people.
In her Yama Raja path, Ara fights the demons as a means of increasing her fighting ability.
In her Asura path, Ara fights the demons to reach Ran faster.

Ara is the first character to not have her first two jobs released together, instead having Little Hsien and Sakra Devanam be released alone, and having Little Devil and Yama Raja be released together at a much later date.

Unlike a tradition with the other characters, Ara Haan only had one of her paths (Little Hsien and Sakra Devanam) released before a new character came, which in this case was Elesis.

Also unlike others, she had different artists do her first two class paths, with Sando doing LH/SD and "Slyph" doing LD/YR.

Before the release of Little Specter, Exorcism 3: Shadow Knot/Shadoweave was a hint of what the secret art of her will be.
Ara can be very clumsy and often makes mistakes.
Like Aisha, she's afraid of insects.
She seems to be bad at dancing.

This may be a result of clumsiness as one art shows her accidentally hitting Elsword with her spear's pole part.

Ara wrote the skill note Shadow Spear Technique.
Karakterek

Elsword

Aisha

Rena

Raven

Eve




Kardlovag






Lovaglord


Mágus
Lovag


Rúna
Pusztító

Köpenyes
Lovag


Végtelen
Kard



Főmágus




Elemi
Mester

Sötét
Mágus




Árnyhercegnő


Harci
Mágus


Dimenzió
Boszorkány

Harci
Erdész


Széllel
Osonó

Lövész
Erdész




Főijász


befogó
Erdész


Éjjeli
Őr



Kardeltávolító






Pengemester




Megdöntő




Vakmerő
Ököl



Fegyvereltávolító




Veteran
Parancsnok

Exotikus
Kód


Bosszúálló
Kód

Építész
Kód


Császárnő
Kód

Elektra
Kód


Harci Szeraf
Kód

Chung Seiker

Ara Haan

Elesis

Add


Haragos
Őr




Vaspaladin


Pisztolyos
Őr


Halálos
Üldöző

Gránátszóró
Őr


Taktikai
Katona

Kis Hsien
(小仙)


Szent Devanam
(帝天)

Kisördög
(小魔)


Alvilági Királynő
(冥王)

Kis Szellem
(小妖)


Asura
(修羅)



Szablyalovag




Nagy
Mester



Lánglovag




Lángoló
Szív

Sötét
Lovag


Vörös
Bosszúálló

Psychic
Tracer


Lunatic
Psyker

Arc
Tracer




Mastermind




4th September 2014






11th September 2014