Burnt Forest
From Elwiki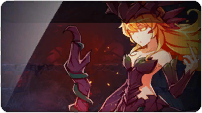 Burnt Forest
[
edit
]
| | | |
| --- | --- | --- |
| " | A place of ruins and everlasting fire. Something is brewing in the midst of flames. | " |
Description
The Burnt Forest is a place of ruin. An undying flame rages across the land...
Dungeon Layout

Mobs
Monster Image
Monster Description
Monster Moves
Angry Gripig - A fire pig which resides in the forest.

Headbutt: The Gripig will charge forward while exhaling a puff of fire.

Mag Norm - A levitating golem that attacks by throwing rings of fire.

Ring of Fire: The Mag Norm will spin fragments of its body then launch them forward like a boomerang.

Mag Charger - A levitating golem that converts into a fire spewing obstacle.

Volcano: The Mag Charger will assume a crab like position then spews fire in all directions three times.
Self-Destruct: Upon being defeated Mag Chargers will clump together and self-destruct.

Mag Stone - A giant humanoid fire golem that can gather the rocks around it to attack.

Crusher Arm: The Mag Stone will gather rocks and fire onto its arm and crush whoever stands in front of it.
Overheat: Once its HP is low it can heat its body up damaging anybody standing near them. It can still perform its other attacks while overheated.

Angry Dryad - Centaurs who resides in the forest. They release orbs of fire from their arms.

Fire Orb: They will release an orb of fire from their arm that will either explode upon impact or create a lingering flame in the air.
Dodge: Dryads can enter a temporary state of invincibility as they take a step back to dodge attacks.

}}
Mini Boss
Monster Image
Boss Description
Boss Moves
Angry Mother Pig - A stronger, enraged boar that is capable of more powerful attacks.

Flamethrower: Exhales a constant wave of fire at players. Stoic is enabled.
Rage Rush: Charges while in stoic, knocking players up.

}}
Obstacles
Obstacles Image
Obstacles Description
Undying Flames - An ominous blood red fire that burns throughout the forest. It burns your feet, dealing continuous damage.

}}
Boss
Monster Image
Boss Description
Boss Moves
Dryad Kenta - The leader of the forest's tree spirits will stop at nothing to bring peace and order back to her home and kinsfolk.

Blaze Crash: She leaps and crashes on a random spot on the map, damaging anyone near the impact.
Inferno Bolt: She will retreat to the edge of the map. She then fires a blazing arrow that leaves flame trails similar to Ignition Crow - Napalm.
Rain of Arrows: She will fire a blazing arrow towards the sky. Arrows will then fall at fixed points on the map.

}}
Trivia
It is possible for a patch of Undying Fire to have mob buffs despite being a stage hazard and not a monster.
Updates
Date
Changes
KR
NA
11/20/2014
05/27/2015
07/08/2021
-
Alternative Names
| Server | Name | Translation |
| --- | --- | --- |
| South Korea | 타버린 숲 | Burnt Forest |
| Taiwan (Traditional Chinese) | 燃燒殆盡的森林 | Burnt Forest |
| China (Simplified Chinese) | 燃烧的森林 | Burning Forest |
| Germany | Verbrannter Wald | Burnt Forest |
| Spain | Bosque Calcinado | Calcined Forest |
| France | Forêt calcinée | Calcined Forest |
| Italy | Bosco Bruciato | Burnt Forest |
| Poland | Spalony Las | Burnt Forest |
| Brazil | Floresta Queimada | Burnt Forest |