Atlas Station
From Elwiki
{{
}}
| | | |
| --- | --- | --- |
| " | Atlas Station. A station that transports Diceon Stones, which can store the power of El. | " |
Big Pic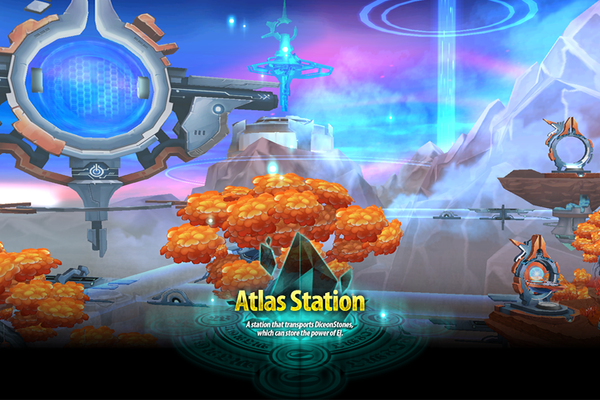 Description
Atlas Station is more than just a resting place for weary travelers. This station has the crucial role of managing Diceon ores which are essential materials in Elrios. These ores have the ability to store the aura of El. The other-worldly charm of the futuristic region that lies beyond it will entice players to explore and take in the scenery.
Level Required to Enter
84
NPCs
Mini Map

Other NPCs

Special NPCs
Gallery
Trivia
Leading up to the release of Atlas Station, a series of history notes were released which told the lore of Elrios, the Nasods, and the creation of Elysion. [1]
Like Feita prior to the Hunting Fields update, Atlas Station was unique in that it was not an official village having the area where the quest NPCs are located double as the village where stories and dungeons are accessed.
Updates
Date
Changes
KR
NA
11/05/2015
04/06/2016
Alternative Names
| Server | Name | Translation |
| --- | --- | --- |
| South Korea | 아틀라스 정거장 | Atlas Station |
| China (Simplified Chinese) | 阿特拉斯驻地 | Atlas Station |
| Germany | Atlas-Station | Atlas Station |
| Spain | Estación de Atlas | Atlas Station |
| France | Station d'Atlas | Atlas Station |
| Italy | Stazione Atlas | Atlas Station |
| Poland | Stacja Atlas | Atlas Station |
| Brazil | Distrito de Atlas | Atlas District |