Hamel's Pier
From Elwiki
THIS IS AN OLD MAP.
For the newer version which replaced this dungeon, see Velder-destined Battleship.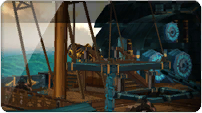 Hamel's Pier
Description
This map can be accessed by entering the portal at the far left end of the Hamel Capital.
Mobs
| Monster Image | Monster Description |
| --- | --- |
| | Ancient Crab - Uses similar animations to the scorpions in Bethma. Can form a shield with its claws. Can induce Wound by attacking. |
| | Merman - Holds a fish and whacks you with it. |
| | Time-out Monster - When the time limit reaches zero, this monster will die, and you will reach Velder. |
Trivia
All you need to do here is wait while the warship sails for Velder.