Lofty: Executor/pt-br
From Elwiki
Alto Inquisidor
Name
Ain
Class
Alto Inquisidor
Weapon
Pêndulo, Projeções de Armas/Armamentos Divinos
Age
Desconhecida (aparenta ter 21 anos)
Class Tree
> > >
Release Date
15 Dezembro 2016
21 Dezembro 2016
21 Dezembro 2016
21 Dezembro 2016
11 Janeiro 2017
12 Janeiro 2017
Statistics
Alto Inquisidor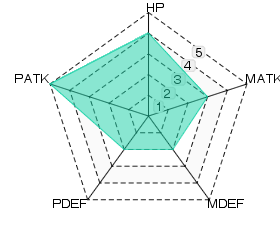 | | | | |
| --- | --- | --- | --- |
| Speed: | Slow | Average | Fast |
| Attack Range: | Short | Medium | Long |
| Difficulty: | Easy | Average | Hard |
Alto Inquisidor
Specialty
[Beyond the agent of God]
With the use of 'Creative Magic', Lofty: is able to project weapons for mid-range battle. He is optimized for creating rapid and deadlier weapons. As an agent of God, you can quickly destroy your enemies.

Background
Though he decided to join the El Search Party in retrieving Ruben's El to fulfill his own mission, Ain felt a growing frustration and doubt about human beings as the adventure progressed.
When he went into the Shadow Forest, where it was reportedly connected to the Demon's Realm, he fought endless battles using weapon projections and creation magic through the Goddess's power.
Due to the continuous use of the Goddess' power, Ain was losing his human element that he needed to get along with humans in Elrios. Wally's evil deed, in addition to the disappointment in humans, led him to give up hope on humans and take his own line.
Focusing on enhancing his own Goddess' power, he gathered all his energy in teleporting, fighting in close range combats, and projecting more powerful Goddess' weapons.

First Class Advancement
After reaching lvl 15, Ain can decide between advancing as a Lofty: Executor, Lofty: Anpassen or Lofty: Wanderer.
Lofty: Executor can also be obtained by using the Item Mall item: Lofty: Executor's Crystal
.
Lofty: Executor
Upon reaching Lv. 35, a Lofty: Executor can advance into a Arme Thaumaturgy.

Skill Tree
Additional Combos
 : All damage values for new and preexisting combos receive a 1.05x multiplier during 1st job.

 : Creation Magic enhances the combo. 
Physical = Casts afterimage for addition non-hitstun damage. 
Magical = Casts projectiles for addition non-hitstun damage.


Image
Description
Damage
Final Spear

After doing the standard combo, fire a projected arrow that pierces frontal enemies.

160% Phy. Damage
197% Phy. Damage
245% Phy. Damage
100% Mag. Damage
43% Mag. Damage x3~24
392% Mag. Damage

Ground Thrust

After doing the standard combo, summon 3 spears from the ground to launch enemies.

Return Slash

After doing the standard combo, dash at the enemy hit by the spear before doing a quick flurry of close range slashes with a projected dagger. The final hit knocks down.


340% Mag. Damage
158% Phy. Damage
135% Phy. Damage x0~13
393% Phy. Damage
Skills
Gallery
Artwork
Miscellaneous
Trivia
Lofty: does not have his own awakening portrait. When awakened, the top left portrait will display the base class awakening portrait.
Upon changing to Lofty: , Ain's Quick Voice clips are changed, which portrays him with a more aggressive personality.
Alternative Names
| Server | Name | Translation |
| --- | --- | --- |
| South Korea | 롭티 : 익스큐터 | Lofty : |
| Japan | ロフティ:エグザクター | Lofty : |
| China (Simplified Chinese) | 执行者 | |
| Brazil | Alto Inquisidor | Lofty Inquisitor |