The Origin's Source
From Elwiki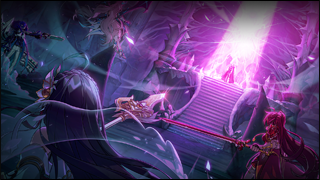 The Origin's Source

[

edit

]
Demon Realm
The El's power does not reach into this realm, Attack and HP will be reduced by 90%.
Date
Changes
KR
NA
08/04/2022
-

The Origin's Source added.

08/11/2022
-

Phase 2:

Camera viewport widened.

▲

Spatial Connection portal behavior improved for convenience.

▲

Spatial Connection and Unstable Abyss Energy patterns no longer overlap.

▲

Unstable Abyss Energy and Abyss Energy Cohering patterns no longer overlap.

▲

Summons cannot acquire Unstable Abyss Energy anymore.

Phase 3:

▲

Shadow and Abyssal Sphere damage dealt decreased.

▲

Changed so the Erosion pattern does not happen immediately after releasing Unstable Force.

▲

The Absorption of Power pattern will now happen a certain time after performing the Berserk pattern.

▲

When the Berserk pattern is over, special patterns will not be triggered if there is a Large Meteor.

▲

Black Hole pattern does not happen during Berserk after Abyssal Spheres are unleashed.

▲

There will be a clear indication message when King of the Abyss enters Berserk.
Region 19

Region 1~6

Region 7~12

Region 13~18

Laby

Noah

Other