West of the Tree of El
From Elwiki
THIS IS AN OLD MAP.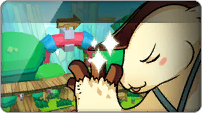 West of the Tree of El
| | | |
| --- | --- | --- |
| " | We go through the forest, and arrive West of the Tree of El... | " |
Description
El-Tree West is surrounded by El Search Team's Watchtower. Because of the El Search Team, it's very safe here.
Mobs
Monster Image
Monster Description
Monster Moves
Giant Bee - A giant bee! Make sure not too get too close to it, or it will sting you!

Sting: Giant Bee stings you with its tail which will knock down.

Mutated Mush - A mushroom can be seen everywhere in the forest.

Headbutt: Smacks players with its mushroom head.

Giant Bee Hive - A small beehive that can spawn bees. Make sure to attack it before it does though!

Bee Spawn: Summon more Giant Bees, can only spawn a limited number of Giant Bees.

Jumping Mong - Monkeys who live in the Forest. They are very agile.
Apple Mong - Monkeys who pick up apples in the Forest.

Apple Throw: Throw an apple at a distance.

}}
Boss
Monster Image
Boss Description
Boss Moves
William Phoru - A mischievous Phoru who plays many pranks on the innocent. He is also responsible for the invasion of the Ruins.

Slash Combo: William will slash four consecutive times.

Dash Attack: William attacks forward with super armor.

}}
Boss Drops
BGM

Image
Name
Boss
Character
Stats

William's Leather Suspenders

William Phoru

Common

Lv6 Top Piece:


Physical Attack +?


Physical Defense +?


Magical Defense +?


---

[Unidentified * ?]


MP Recovery Attacked +2%






Updates
Date
Changes
KR
NA
12/27/2007
-

West of the Tree of El added.