[Mod] Infernal Circle
From Elwiki
[Special Active: Strength]
[Mod] After creating spirit spheres around you, protect your body by unfolding a sphere curtain.
Energy Consumption

Energy Conversion

Gain 4 Energy by cancelling this skill
Requirements
Skill Information
Mode
Damage (Magical)
Max Hits
Sphere Curtain
Spirit Energy
MP Usage
Cooldown
Spinning Spheres
Sphere Curtain
Spinning Spheres
Sphere Curtain
(Per Sphere)
Sphere Count
MP Refund Per Remaining Sphere
Duration
Use
Cancel
PvE
748%
283%
8
1
6
10 MP
10 Seconds
-2
+4
140 MP
15 Seconds
PvP
213%
80%
| Empowered Infernal Circle | Gigantic Infernal Circle |
| --- | --- |
| Attribute Effect | Attribute Effect |
| Damage increased to 120% | Skill size increased to 130% |
Extra Information
Total Damage
Mode
Regular
Normal
Empowered
Cancel
Full
Cancel
Full
PvE
5,984%
7,682%
7,180.8%
9,218.4%
PvP
1,704%
2,184%
2,044.8%
2,620.8%
Miscellaneous
Affected By Action Speed

* (See Tips and Details)
Tips and Details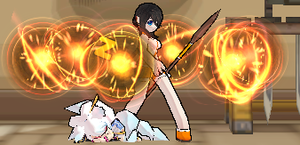 The tooltip makes no mention of the duration of the Sphere Curtain, nor its MP recovering function (based on how many spheres remain upon the curtain expiring).
The spheres in Sphere Curtain will swirl around you until they expire or come into contact with an enemy, causing them to explode.

It's hard to tell how long they will remain, as they don't trigger any buff icon.

The last hit of this skill doesn't knock down enemies if it's not canceled.
Just like the normal version of this skill, despite being affected by Action Speed, it will always hit at the same time. Only the animation will have its speed changed.

Additionally, the sound effect caused by the explosion does not match the exact moment of impact.
Updates
Date
Changes
KR
NA
PvE
PvP
12/28/2017
02/07/2018

[Mod] Infernal Circle added.

04/05/2018
04/18/2018
Alternative Names
Server
Name
Translation
South Korea
연환지옥
Chain Hell
South Korea (literal Chinese name)
連環地獄
Chain Hell
Japan
連環獄
Chain Hell
China (Simplified Chinese)
连环地狱
Chain Hell
Germany
Höllenkette
Hell Chain
Spain
Cadena infernal
Hell Chain
France
Chaîne infernale
Hell Chain
Italy
Catena degli Inferi
Hell Chain
Poland
Piekielny Łańcuch
Hell Chain
United Kingdom
Chain Hell
Brazil
Tornado Infernal
Hell Tornado
Devi Skills
Master Skill




Dance of the Butterfly (1/2/3/4)