Comandante delle Fiamme
From Elwiki
Statistiche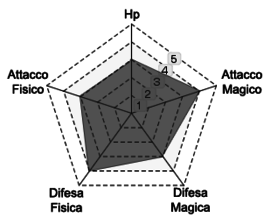 Comandante delle fiamme
Specialità
Dopo molto allenamento con il suo Braccio Nasod, Raven può sparare fiamme e ha una maggiore resistenza al suo surriscaldamento. Per fare ciò, ha aggiunto al suo braccio molte componenti Nasod, di cui ricordiamo il lanciafiamme di Ignis.
Storia
Durante le innumerevoli battaglie, Raven tende a surriscaldare eccessivamente il suo braccio. Realizza quindi che sta raggiungendo il suo limite.
"Questo braccio prima o poi si romperà e sarà solo un intralcio..."
Per avere una maggiore potenza distruttiva e per ovviare al problema dei numerosi surriscaldamenti, Raven chiede aiuto alla razza Pongo per apportare modifiche al suo braccio. Per aumentare la sua resistenza al calore durante gli spari, gli viene detto di ottenere il braccio di Ignis, capace di creare un getto di fiamme nucleari. Queste però sono troppo intense per essere utilizzate dal suo braccio, quindi Taro lo informa dell'esistenza di un metallo che può sostenere il calore: il metallo oscuro del Cavaliere Dyuharan. Purtroppo, tale materiale è troppo pesante per essere montato sul suo braccio Nasod, quindi gli sarebbero serviti dei componenti magici dei golem, capaci di cambiare il peso di qualunque oggetto. Dopo aver ottenuto tutti i materiali richiesti, i Pongo li installano sul suo braccio Nasod. La sua Trasformazione, quindi, era completa.
Classaggio
Al Lv35, il Figlio del fato può classare in Comandante delle fiamme. Le quest per il secondo classaggio si ottengono da Aran, l'NPC evento di ogni città.
Comandante delle fiamme
Parla con Adel.
Ottieni:
Ottieni:
Puoi Trascendere dal Liv. 70.

Albero Skill
| | | | | | |
| --- | --- | --- | --- | --- | --- |
| | | | | | Livello 35 (4 SP) |
| | | | | | Livello 45 (4 SP) |
| | | | | | Livello 50 (4 SP) |
| | | | | | Livello 55 (5 SP) |
| | | | | | Livello 60 (5 SP) |
| | | | | | Livello 65 (10 SP) |
Combo
Image
Description
Damage

Air Bomb Raid
(Will overheat) Raven jumps into the air, shoots out an explosive shell, and continues the combo with a barrage of shells at a 45 degrees range. The first shell he fires requires MP, and launches the target slightly. Repeatedly pressing the X key will fire shells repeatedly, causing overheat, with the last shell also launching the target. However pressing the X key only twice will fire the first shell and then another, both of which will launch the target, with no overheat. Should the shells come into contact with a platform they will leave a trail of fire momentarily, burning any targets they come in contact with. The shells will fizzle out and disappear if they travel far enough without contact, however flames still appear where they would hypothetically land. A maximum of 10 shells can be fired in one volley.


185% Mag. Damage
115% Mag. Damage
Times Number Of Shots
185% Mag. Damage
(Flame Trails) 55% Mag. Damage

Sword Flame Thrower
(Requires overheat) After executing the standard >>ZZ combo, Raven spins around, striking the target with his claw and blasts flames from his palm. Requires overheat to use at all; attempting to do so without enough HP will cause instant recoil. Hold the button to continue spraying flames.


100% Phy. Damage
100% Phy. Damage
50% Phy. Damage
HOLD 160% Mag. Damage
Times Number Of Hits
Abilità
| | | | |
| --- | --- | --- | --- |
| Iper Attive | Attive Speciali | Attive | Passive |
Curiosità
Quando il Comandante delle fiamme va in stato di Overheat, le ventole sul suo braccio si apriranno. Queste produrranno un suono quando si chiudono.
Il braccio Nasod del Comandante delle fiamme è il più corazzato dei classaggi di Raven.
La Gran Tiratrice ed il Comandante delle fiamme hanno il numero maggiore di skill che infliggono status alterati, se confrontati con gli altri 2° classaggi.
Con le passive Mercenary Behavior e Shadow Technique of the Mercenary il Comandante delle Fiamme puo diventare estremamente resistente all Overheat e ad ogni tipo di effetto, anche grazie al buff HP, questo lo rende un avversario difficile da danneggiare.
Secondo il fumetto, la parte rossa dei capelli del Comandante delle fiamme è dovuta alle radiazioni subite durante il processo di incanto del braccio Nasod.