Circle Flame/pl
Jump to navigation
Jump to search
| | |
| --- | --- |
| | [Active] Aisha summons 3 fireballs to rotate around her, dealing multiple damage to surrounding enemies. |
Requirements
Skill Information
Skill Level
Level Required
Damage (Magical)
Max Hits
MP Usage
Cooldown
Fireball Summon
Fireball Hit
1
40
95%
189%
6 Per Fireball
40 MP
5 Seconds
2
98%
195%
3
41
101%
201%
4
44
104%
207%
5
47
107%
213%
6
50
110%
220%
7
53
113%
226%
8
56
116%
232%
9
59
119%
238%
10
62
122%
244%
11
65
125%
250%
12
68
128%
257%
13
71*
263%
14
74*
269%
15
77*
275%
16
80*
281%
17
83*
287%
18
86*
293%
19
89*
300%
20 (M)
92*
306%
21
-*
312%
22
318%
23
324%
24
330%
25
336%
26
343%
27
349%
28
355%
29
361%
30
367%
*Please note that you can only achieve these levels through equipments, accessories, and titles.

"

Now, let us talk to more people about...Fire balls! Fire ball! Fire ball! Fire ball! Fire ball! Fire ball! Fire ball! Fire ball! Fire ball! That's enough for today's lecture.
-Lote



"
Name: Quantitative Improvement Ⅱ(NA) / Thoughts on the Quantitative Improvement (양적 향상에 대한 생각Ⅱ)
Description: Adds one more fireball, increasing the amount of hits possible while decreasing the damage by 17.5%.

Tips and Details
Circle Flame can also be activated in mid-air.
The fireballs are like normal fireball attack:
The fireballs start at cast position and spiral outwards.

Will push enemies away unless they are Stoic/Super Armor.

If this skill is used while the opponent is in the air past Aisha's torso, then they will be pushed upward.

First half of the spiraling fireballs deal 50% of the damage listed in the skill description.
A fireball can hit a large enemy multiple times, 3 for upright enemy such as Teach the tyrant, more for extended body parts such as Ancient Bone Dragon.
A fireball will hit 6 times after which the ball will disappears. In extreme case the ball would be gone while still in inner spiral, failing to do full damage.
Aisha will stay in position for a second, during which she can be hit; the fireballs will keep on spiraling, often pushing the offender away.

This skill is affected by High Magician's Freezing Point Investigation.
Once the skill is used, it cannot be canceled, even if Aisha is attacked.
The skill note for this skill increases the amount of hits by adding a fireball, but now in turn reduces the damage of each individual hit.

This results in noted Circle Flame doing 10% more damage noted, compared to unnoted.
As it is only possible to land all hits on large targets, the skill note is counterproductive in terms of PvP and will result in less overall damage being dealt, compared to using unnoted Circle Flame in PvP.
Updates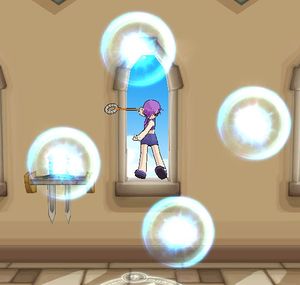 03/29/2012 KR

Each fireball pierces 2 more times.
Damage decreases when the fireballs first appears.

11/07/2013 KR

If you learn Freezing Point Investigation, this skill now converted to ice balls, but will not affect damage increase from passive.
Damage from each fireball is reduced with the skill note.