Rena
From Elwiki
Statistics
Rena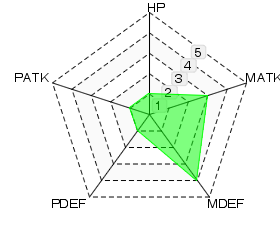 | | | | |
| --- | --- | --- | --- |
| Speed: | Slow | Average | Fast |
| Attack Range: | Short | Medium | Long |
| Difficulty: | Easy | Average | Hard |
Rena
Specialty
เรน่าคือมือธนูที่สามารถโจมตีในระยะไกลได้ และใช้พลังแห่งธาตุต่างๆ ในการเสริมการโจมตีด้านเวทย์มนตร์ของเธอ ในอีกด้านหนึ่ง เธอยังสามารถโจมตีศัตรูด้วยลูกเตะอันทรงพลังได้อีกด้วย นอกจากนี้เธอยังสามารถเคลื่อนที่กลางอากาศได้ไกลด้วยการกระโดดสองชั้น

Special Ability
บทความหลัก: Nature's Spirit
เรน่าสามารถเรียก Nature orbs มาช่วยเธอในการต่อสู้ orbs เหล่าช่วยเพิ่มประสิทธิภาพคอมโบและเพิ่มความสามารถในการเคลื่อนที่ของเธอ ยิ่งไปกว่านั้น เรน่ายังสามารถกระโดดสองชั้น ยิงธนู และชาร์จมานาได้อีกด้วย

Background
เรน่าคือเอลฟ์ที่อาศัยอยู่ในอีกโลกหนึ่ง โลกของเธอกำลังมีภัยเพราะพลังของ El ที่เป็นแหล่งของพลังงานทุกสิ่งรวมถึงเชื่อมต่อกับโลกของเธอนั้นอ่อนพลังลง ถ้าพลังของ El หายไป การเชื่อมต่อของโลกทั้งสองก็จะหายไปด้วยเช่นกัน เรน่าจึงใช้ความสามารถของเธอในฐานะ Ranger เพื่อปกป้องพลังแห่ง El และพวกพ้องของเธอ

First Class Advancement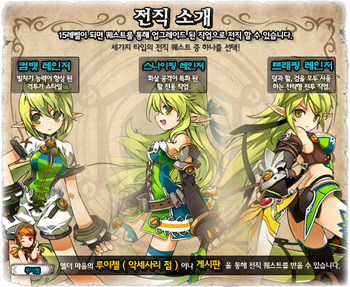 Rena ต้องมีเลเวล 15 จึงจะสามารถเปลี่ยนคลาสครั้งแรกได้
Ranger
หลังจากทำเควส Ranger ซึ่งเป็นเควสต่อเนื่อง 4เควสแล้ว Rena สามารถเลือกได้ว่าจะเปลี่ยนเป็นคลาส Sniping Ranger, Combat Ranger, หรือ Trapping Ranger
คลิกที่ลิ้งค์ด้านล่างเพื่อไปที่หน้าของแต่ละคลาส
Sniping Ranger Combat Ranger Trapping Ranger

Skill Tree
| | | | | | |
| --- | --- | --- | --- | --- | --- |
| | | | | | Level 0 (2 SP) |
| | | | | | Level 5 (2 SP) |
| | | | | | Level 10 (2 SP) |
| | | | | | Level 15 (2 SP) |
| | | | | | Level 20 (2 SP) |
Combos
Combo
Description
Damage Multiplier
Basic 4 kick combo .
120%(P) + 140%(P) + 140%(P) + 200%(P)
Basic 3 kick combo, followed by a upperkick that sends targets quite a distance.
120%(P) + 140%(P) + 140%(P) + 240%(P)
Basic 3 kick combo, followed by a quick dodge behind targets and shooting a arrow that knocks targets down.
110%(P) + 130%(P) + 130%(P) + 190%(M)[6MP]
Fires 2 arrows, followed by a backflip and shooting 2 shots and ending the combo with a final shot that knocks targets down.
170%(M)[3MP] + 170%(M)[3MP] + (2)100%(M)[6MP] + 250%(M)[3MP]
Fires 2 arrows, followed by a backflip and shooting 2 shots and ending the combo with a upwards shot of 3 arrows.
170%(M)[3MP] + 170%(M)[3MP] + (2)100%(M)[6MP] + 210%(M) and (2)170%(M)[15MP]
Fires 2 arrows, followed by a backflip and shooting 2 shots and ending the combo with a downwards shot of 3 arrows.
170%(M)[3MP] + 170%(M)[3MP] + (2)100%(M)[6MP] + 210%(M) and (2)170%(M)[12MP]
Single jump kick.
120%(P)
Single jump shot.
170%(M)[3MP]
Slides into targets and kicks them up into the air.
130%(P) + 200%(P)
Dodge behind targets and shoot an arrow that knocks targets down.
170%(M)[6MP]
While in midair, do a forward kick. After landing on the ground, Rena will still continue running as you are holding .

7/4/2013 KR

This combo will no longer knock down and push targets instead gives hit stun.

220%(P)
While in midair, shoots 2 arrows and ends the combo with a shot of 3 arrows.
170%(M)[3MP] + 170%(M)[4MP] + (3)220%(M)[12MP]
While double jumping, does a diving kick downwards.
220%(P)
While double jumping, shoots down three arrows that spread apart.
170%(M)
Skills
| | | | |
| --- | --- | --- | --- |
| Special Active | Active | Buff | Couple Skill(Active) |
Theme
Gallery
Trivia
เป็นที่รู้ๆกันว่าเรนะนั้นมีขนาดหน้าอกที่ใหญ่มาก หลายๆครั้งที่หน้าอกของเธอจะเด้งไปมาในท่ายืนบางท่า (เช่น ท่ายืนตอนไม่ได้ต่อสู้ของ Sniping Ranger) ในวีดีโอโปรโมท(ทีเซอร์)ของ Trapping Ranger ก็ได้แสดงการเคลื่อนไหวของหน้าอกที่เด้งไปมาเช่นกัน นอกจากนั้นหากเปลี่ยนคลาสเป็น Grand Archer, Wind Sneaker หรือ Night Watcherขนาดหน้าอกของเธอจะใหญ่ขึ้นอย่างเห็นได้ชัด (ไม่รู้ว่าแปลถูกป่าวนะ //ฮา)

ในมังงะ ElType มีอยู่แก๊กหนึ่งที่ Aisha นั้นอิจฉาขนาดหน้าอกที่ใหญ่กว่าของเรนะซึ่งแก๊กนี้อยู่ในเล่มที่ 4 while Aisha was still flat-chested (and was displeased about it) as an Elemental Master, she became even more upset upon seeing Grand Archer Rena's larger chest size.

เรนะนั้นเป็น jack of all trades(ตัวละครที่ออกแนว "รู้อย่างเป็ด") ด้วยความสามารถในการใช้อาวุธระยะไกล การเตะ,ลม,พลังของธรรมชาติและเวทย์มนตร์ไฟ ซึ่ง Grand Archer ยังมีเวทย์มนตร์น้ำแข็งและ Trapping Ranger ยังได้ครอบครองอาวุธระยะประชิดและกับดักทั้งหลายด้วย นอกจากนี้ส่วนใหญ่จะมีคอมโบมากมาย,สกิลที่เพิ่มพลังโจมตี,บัฟต่างๆและดีบัฟ,ความคล่องตัว,สกิลที่ทะลุพลังต้องกัน,สกิลที่เพิ่มการป้องกันธาตุ,และอัตราการฟื้นฟูมานาด้วย
Rena's age is listed as unknown due to her race; Elves are known to live far longer than humans. In Volume 1 of ElType, Rena mentions that when she was Elsword and Aisha's size, their Great-Great Grandfathers hadn't even been born.

Even though she speaks of her age freely (eg: ElType, and her post dungeon quote "In all my years..."), several of her post-dungeon quotes (eg.: "I am too young for this! and "Am I showing my age? I should think!!) imply that she is worried about being seen as too old by those around her.

เรนะนั้นไม่มี "ความหลัง" ที่สรุปเรื่องราวของเธอซึ่งส่วนมากจะบอกถึงเผ่าพันธุ์เธอมากกว่าเรื่องราวของเธอมากกว่า
ตามที่ Raven ได้พูดเอาไว้ เรนะนั้นหน้าคล้ายกับคู่หมั้นของเขาที่เสียชีวิตไปแล้วที่มีชื่อว่า เซริส
ในระหว่างที่อยู่ช่วงพัฒนาเกม ชื่อเดิมของเรนะนั้นคือไลร์ ตัวละครที่มีการออกแบบพื้นฐานคล้ายๆกันและมีชื่อเหมือนกันที่มาจากในเกม MMO ที่แยกออกมาและสร้างโดย KoG ที่มีชื่อว่า Grand Chase.

This idea was scrapped due to copyright reasons as both games were hosted by different companies, however it can still be found within the game's core files, as the scripts within her .kom files all go by the name Lire instead of Rena.

Along with Elsword and Aisha Rena's Promotional Weapon also changes a little with Awakening Mode.
Due to the revamp during 12/13, Rena's arrows now restore the same amount of MP it cost to shoot.