Mã: Phục Hồi - Triệu Tập
From Elwiki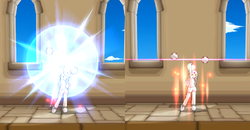 | | |
| --- | --- |
| | [Special Move] Bằng sự kết hợp giữa "Phục Hồi Mật Mã" và "Kiến Tạo Mật Mã", Eve cải tiến Mã: Phục Hồi và có thể triệu tập các đơn vị triệu hồi (đệ) của mình lại. Nếu Eve không triệu hồi bất kỳ đệ nào, kỹ năng triệu hồi tiếp theo sẽ giảm lượng MP tiêu thụ.. Khi giải phóng năng lượng, Eve sử dụng MP để hồi lại HP. Sau đó, các đệ sẽ vây quanh Eve. |
Yêu Cầu
Thông tin kỹ năng
| Level yêu cầu | HP hồi lại | Lượng MP tiêu tốn cho kỹ năng triệu hồi tiếp theo giảm | MP tiêu tốn | Hồi chiêu |
| --- | --- | --- | --- | --- |
| 15 | 2% | -25% | 10 MP | 3 giây |
Mẹo và thông tin
Mặc dù Mã: Phục Hồi - Triệu Tập là một khả năng đặc biệt, nó vẫn được tính như là một kỹ năng bình thường và có thể bị ngăn sử dụng bởi các hiệu ứng khống chế như Câm lặng.
Cập nhật
21/04/2016 (KR) / 18/05/2016 (NA)

Giảm HP hồi lại.
Giảm lượng MP tiêu thụ.
Giảm thời gian hồi chiêu.
Các summon sẽ theo chỉ đạo của Eve sau khi tụ họp lại.
Nếu không có đơn vị nào được triệu hồi, các kỹ năng triệu hồi tiếp theo sẽ giảm lượng MP tiêu thụ.

29/9/2016 (KR)

Sửa lỗi Ferdinand không biến mất khi hết thời lượng khi sử dụng Code: Recovery - Attention vào lúc lẽ ra anh ta phải biến mất.

13/10/2016 (KR)

Giảm 50% MP tiêu thụ cho kỹ năng triệu hồi kế tiếp, nếu không có đơn vị nào đang được triệu hồi thì kỹ năng triệu hồi được giảm 25% MP phải dùng.

02/09/2017 KR
Liên quan...
Character Systems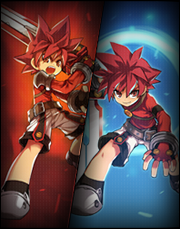 ---
When playing Elsword, there will be an additional bar below the mana gauge called Way of the Sword. This bar has 10 segments that, by default, contain 5 red Destruction slots and 5 blue Vitality slots, and depending on your actions, the bar will lean towards one color or 'aura' (from right to left for Destruction, from left to right for Vitality), replacing the other aura's slots. As long as an aura has at least one slot in the bar filled, you will receive special benefits depending on which aura you currently have active. The "Aura of Destruction" is selected by default, and you can switch between it and the "Aura of Vitality" by using the V key.
Depending on the type of skill you use, the bar will fill towards the right with blue Vitality slots or towards the left with red Destruction slots:
Flexibility/Tenacity skill: 1 slot
Strength skill: 2 slots
Bravery skill: 3 slots
Note that skills fill the slots contrary to their mode: vitality-based skills fill the bars with destruction slots; destruction-based skills fill the bar with vitality slots.
If the bar is filled completely by either aura's slots, the aura for the other mode will deactivate and you will enter a neutral stance with no benefits when it is toggled on, until at least 1 slot is re-gained for that mode. As such, the bar acts as a balancing mechanic so over-using one mode's skills can prevent that mode's aura from being active.