Secret Dungeon
From Elwiki
Secret Dungeons are dungeons that can be accessed upon reaching Lv.70.
Basic Information
Secret Dungeons are dungeons that can be accessed at Lv.70 and higher. They are significantly more difficult than regular dungeons, and offer unique drops and rewards, such as Barrier Fragments and Sacrificed Adventurer Equipment, both of which are used to make Secret Dungeon Equipment. The level range of Secret Dungeons ranges from Lv.70 to Lv.99, making them an ideal place to level up higher level characters.
How to Enter
To unlock and enter Secret Dungeons, the character must fulfill the following requirements:
Only 2 Secret Dungeons are open at a given time, as they will cycle open and closed on a daily basis. You can view which day a specific Secret Dungeon will be open by hovering over its icon in the dungeon select screen. Closed Secret Dungeons can be entered forcefully with the use of
Secret Dungeon Opening Device, which is obtainable during events.
List of Secret Dungeons
Difficulty of Secret Dungeons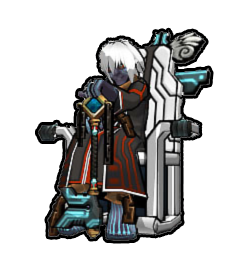 The level of the monsters will be equal to the highest level player in your party plus 5. For example, if you're in a party with a level 70, 80 and 90, the level of the monsters will be 95. Thus it is recommended to go into Secret Dungeons with a group of similar level to you, or by queueing, which will automatically pair you up with other players in your level range.

While playing in Secret Dungeons, there is a chance for the NPC Luto to appear. Luto will present the option to replay the current dungeon in Luto Mode, in which the party must successful vote on in order to enter. The party must have more than half the group's approval to enter the dungeon. If the vote is tied, the entrance will be cancelled. While in Luto Mode, the dungeon's drop rate and monster levels will significantly increase, and you will receive a 300% boost in EXP gain (does not apply to El Resonance). Luto will have a higher chance of appearing if the Fever gauge is full.

Secret Dungeon Sets
Main Article: Secret Dungeon Equipment
Secret Dungeon Quests
Current Quests
General

[Secret Dungeon] Hidden Dungeon Revealed
{{
Daily

[Secret Dungeon] Job to Restore the Secret Barrier
{{
Daily

[Secret Dungeon] Shaking Luto's World
{{
Weekly

[Secret Dungeon] Honorable Adventurer
{{
Old Quests
Old Quests
Daily

Wally's Underground Laboratory
{{
Daily

Dragon Nest: Abyss
{{
Daily

Transporting Tunnel: CA
{{
Daily

Velder's Hallucination
{{
Daily

The Rage of Behemoth
{{
Weekly (Random)

[Random] Luto's Gift
{{