Força da Natureza
From Elwiki

A Wind Sneaker possui uma habilidade com o mesmo nome do sistema. Nature's Force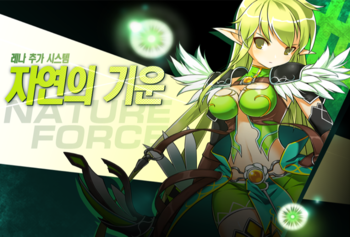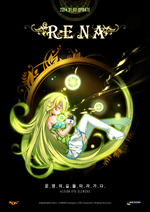 Todo personagem em Elsword possui uma capacidade especial, isso é o que o diferencia dos demais.

Força da Natureza
[
edit
]


Em 01/02/2014 no servidor coreano, Rena recebeu um novo sistema, chamado de Força da Natureza, é um poder exclusivo dos Elfos. A Interface do sistema é indicada abaixo da barra de Mp, com 5 pequenas barras. As orbes são chamadas de 'NF' dentro do jogo



Ganhando Orbe
[
edit
]
Rena é capaz de carregar o indicador de orbe da natureza, atingindo alvos com chutes básicos, comandos de seta e habilidades ativas. Após 3 comandos, é preenchida 1 barra do indicador de orbe da natureza.

Exemplo: Usando




são três comandos porem 5 golpes no total.


Ao ativar o Despertar, você ira ganhar preencher as 5 barras de NF. Se você receber NF quando seus orbs já estiverem cheios, você recebera 15 de MP por NF extra.

A Medida que as barras são preenchidas efeitos visuais cercarão Rena:
Uma Barra: Ganha uma pequena orbe verde.
Duas Barras: A orbe ganha uma pequena trilha verde.
Três Barras: A orbe se torna mais luminosa.
Quatro Barras: Ganha uma segunda orbe verde, tem a mesma aparência da orbe anterior.
Cinco Barras: Ganha uma terceira orbe verde, mesma aparência das demais.

Como o numero de orbes não segue o numero de barras, eles não são um indicador de NF confiável.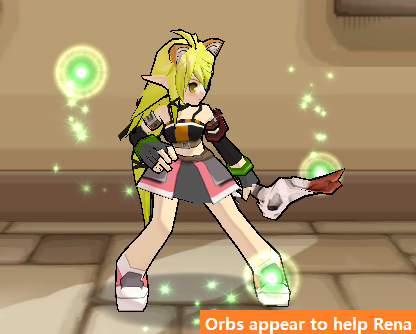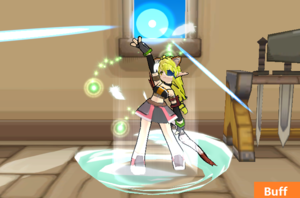 Vantagem da Força da Natureza
[
edit
]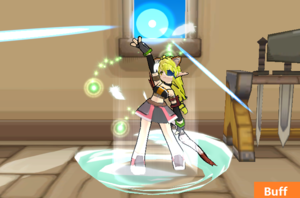 When Rena has at least one NF in her gauge, she gains a passive buff that increases Critical Chance, Critical Damage, Elemental Resistance, arrow MP gain and decreases her arrow MP usage. The effects are amplified if she possesses more NF.

Nature's Force Damage Boost
[
edit
]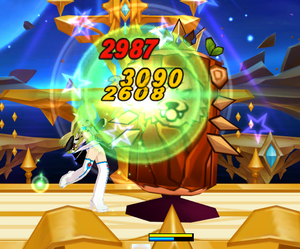 Enquanto Rena possuir pelo menos 1 FN, ela irá ganhar bônus de dano em seus ataques básicos. A maioria de seus comandos utilizam uma FN para aumentar o dano causado. Isso não se aplica apenas a combos de apenas um comandos, mas também ao


. Nenhuma FN será consumida se o golpe não atingir o alvo. Alguns comandos também podem consumir mais de uma FN causando duplo dano, bem como o



(

/

) da Rena, consumindo 1 FN para cada uma das flechas.
FN também pode ser consumida por habilidades, causando dano adicional no seu primeiro golpe, ou até causar efeito adicional. O número de FN gasto para cada habilidade varia de acordo com o tipo da mesma.
| Tipo de Habilidade | Número de FN Consumida |
| --- | --- |
| Tenacidade | 1 |
| Força | 2 |
| Bravura | 3 |
Atualmente, apenas essas habilidades não consomem nenhuma FN apesar de serem Ativas Especiais: Airelina, Disparos Consecutivos, Gungnir, Carta na Manga, and Karma.


Informação de Recursos
[
edit
]
Bars
Dano das Explosões
Bônus
Comandos
Habilidades
Transcender: Dama dos Ventos
Transcender: Mestra Arqueira
Transcender: Guardiã da Noite
Chance de Crítico
Dano Crítico
Resistência Elemental
Ganho de MP
Aumentado (Flechas)
Uso de MP
Reduzido (Flechas)
Velocidade de Movimento
Aumentada
1
370%
370% x 1.2 x [Skill NF Usage]
193%
+6%
+6%
+50
5%
10%
4%
2
+12%
+12%
+100
10%
20%
8%
3
+18%
+18%
+150
15%
30%
12%
4
+24%
+24%
+200
20%
40%
16%
5
+30%
+30%
+250
25%
50%
20%
Especialização (Não mais disponível)
[
edit
]
| Personagem | Specialization A | Specialization B |
| --- | --- | --- |
| | Chance de ganhar NF extra aumentada em x% (Max: 50%) | Uso de Mp reduzido em relação ao a NF consumida em x% (Max: 40%) |
Dicas e Detalhes
[
edit
]
O dano da explosão é calculado pela média de ataque: (Ataque Físico + Ataque Mágico) / 2.

O calculo de dano também é afetado pela variação de dano do ataque, sendo assim afetada pela Maximização.
O dano dos comandos e qualquer Transcender (passiva transcendente) também são afetados pelos modificadores de dano das classes (de x1 para x1.15 para cada avanço de classe). O dano das explosões não são afetados por esse multiplicador, sem sempre x1.2

A explosão causada afeta todos na área e ignora guarda e defesa. Após o reajuste na Rena em 23/07/2015 (no KR), ele deixou de causar golpe de atordoo, assim não evitando o nocaute do inimigo.
A chance de crítico do sistema de FN é normalizado, isso significa que não é afetado pela curva de balanceamento.
O aumento de velocidade de movimento não é citada na dica da habilidade, porém é citada no status na barra de status.
Apesar dos pôsteres chamarem de Força da Natureza, a tradução literal seria Espírito da Natureza.

No NA, esse sistema foi chamado de Força da Natureza, similar aos pôsteres do KR, podendo ser facilmente confundido com a habilidade Força da Natureza da Dama dos Ventos.
Updates
[
edit
]
Data
Mudanças
KR
INT
01/28/2014
-

▲

Nature's Spirit system added.

01/02/2014
-

▲

Commands required to gain a nature orb reduced from seven to six.

▲

Skills increase your Nature's Spirit command count on activation.

07/23/2015
12/16/2015
08/27/2015
-

▼

Adjusted damage reduction buff per 1 NF point which was set too high.

02/04/2016
03/16/2016

▼

MP recovery effect decreased.

▼

Damage Reduction effect removed.

04/21/2016
05/18/2016

▲

Commands required to gain a nature orb reduced from six to three.

08/11/2016
09/28/2016

Fixed issue where NF consume is affected by Specialization B and Skill Trait.

05/18/2017
05/31/2017

Fixed issue where cannot gain NF when awaken during entering the next stage.

11/02/2017
11/15/2017

▼

Passive MP Recovery decreased.

08/23/2018
09/06/2018

▲

Critical Chance, Critical Damage, and Elemental Resistance Increase per NF added.

▼

All Speed and Natural MP Recovery Increase per NF removed.

09/20/2018
10/11/2018

▲

Movement Speed per NF added.

▲

NF is no longer consumed in 3 bead Awakening.

02/21/2019
-

Added tooltip to buff for stat increase related effects.
Character Systems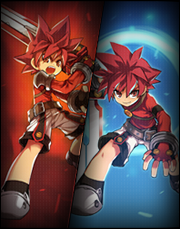 ---
When playing as Elsword, you will have access to a special gauge known as Way of the Sword. This gauge will enable you to activate Aura of Vitality or Aura of Destruction for a period of time. Depending on the type of commands (

/

) or skills you use, the gauge will lean towards either vitality or destruction.
While the Aura of Vitality is active, you will gain more MP from vitality-based attacks, while the MP cost for vitality-based skills will be reduced. Your speed will also be increased. While the Aura of Destruction is active, all destruction-based attacks and skill will deal vastly more damage.
Note that the system they use is not what what it may appear to be at first; vitality-based attacks take away vitality from the gauge, leaning the gauge towards destruction; destruction-based attacks take away destruction from the gauge, leaning the gauge towards vitality; this is why only attacks that use the gauge will receive benefits while in their respective aura.