Tryb Dynamo
From Elwiki
Każda postać w Elswordzie ma swoje unikalne cechy, które odróżniają ich od innych klas.
Tryb Dynamo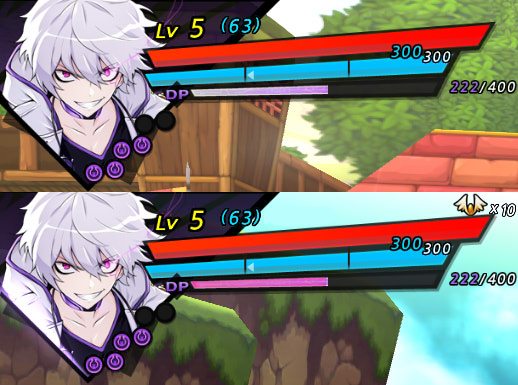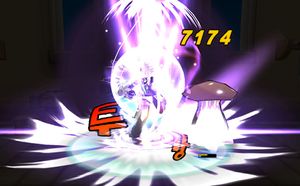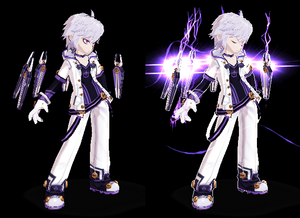 W przeciwieństwie do innych dopalaczy innych postaci, dopalacz Add'a jest nazywany Trybem Dynamo (tryb PDY). Inaczej nazywany też "trybem konfiguracji":
Kiedy Add nie znajduje się w trybie PDY, co każde uderzenie zwiększa się wskaźnik PDY. Jeśli posiada co najmniej 100 PDY, jest w stanie uaktywnić tryb PDY kosztem 50 DP i zadaje 300% Obrażeń Mag. okolicznym celom.

Niektóre umiejętności korzystają z DP zamiast PM, a inne zarówno PDY jak i PM.

W trybie PDY, poza Add'a i jego dynam zmienia się. Każde uderzenie zmniejsza ilość PDY. Naciskając ponownie CTRL można wyłączyć tryb PDY.

Ataki z pojazdów, nie zużywają PDY.
Po uaktywnieniu tryb dynamo musi zregenerować się w czasie 5 sekund. Timer pojawi się w miejscu gdzie znajdują się litery PDY.

W przypadku użycia "Tajemniczego Eliksiru Dopalacza Mocy" na mapach lub pvp, zamiast uaktywnienia dopalacza rośnie ilość PDY.

To samo dotyczy gorączki.

W przeciwieństwie do dopalaczy innych postaci, dopalacz Add'a nie powoduje "zamarznięcia" ekranu.
Różne klasy Add'a mają różne pozy w trybie PDY.
Podczas włączania trybu PDY okoliczni wrogowie doznają obrażeń.

Korzyści trybu PDY:
W trybie PDY obrażenia zwiększone są o 20% względem podstawowych obrażeń.
Umożliwia korzystanie z kombo PDY, zależnie od klasy.
Możliwość zneutralizowania PDY w umiejętnościach ich używających.
Licznik PDY
Add podczas przechodzenia w tryb PDY otrzymuje 1 z 6 kulek widocznych pod jego portretem. Kulki te są wykorzystywane do wzmacniania umiejętności. Umiejętność zostanie wzmocniona tylko jeśli Add znajduje się w trybie PDY.
Umiejętności korzystające z PDY
Różnica w statystykach

Zamiast statystyki czasu dopalacza mocy i ładowania dopalacza, Add posiada statystykę ładowania PDY i redukcję kompsumpcji PDY.

Obydwie statystyki obejmują koszt DP i regenerację ataków, skilli i dopalacza.
Jeżeli Add nosi pierścień gniewu podczas wchodzenia na PVP, to zamiast jednej perły dopalacza zacznie z 125PDY.
Inne Postacie
Maksymalne Statystyki
Add
Maksymalne Statystyki
Regeneracja DM

Czas DM
50%

40%
→
Ładowanie PDY

Zużycie PDY
50%

-40%
Character Systems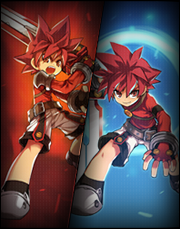 ---
When playing Elsword, there will be an additional bar below the mana gauge called Way of the Sword. This bar has 10 segments that, by default, contain 5 red Destruction slots and 5 blue Vitality slots, and depending on your actions, the bar will lean towards one color or 'aura' (from right to left for Destruction, from left to right for Vitality), replacing the other aura's slots. As long as an aura has at least one slot in the bar filled, you will receive special benefits depending on which aura you currently have active. The "Aura of Destruction" is selected by default, and you can switch between it and the "Aura of Vitality" by using the V key.
Depending on the type of skill you use, the bar will fill towards the right with blue Vitality slots or towards the left with red Destruction slots:
Flexibility/Tenacity skill: 1 slot
Strength skill: 2 slots
Bravery skill: 3 slots
Note that skills fill the slots contrary to their mode: vitality-based skills fill the bars with destruction slots; destruction-based skills fill the bar with vitality slots.
If the bar is filled completely by either aura's slots, the aura for the other mode will deactivate and you will enter a neutral stance with no benefits when it is toggled on, until at least 1 slot is re-gained for that mode. As such, the bar acts as a balancing mechanic so over-using one mode's skills can prevent that mode's aura from being active.