Комбинация
Jump to navigation
Jump to search
Каждый персонаж в Элсворде обладает уникальной Системой, которая отличает его от других.
Комбинация
Как двойной персонаж с командным стилем игры Лу и Сиэль не разделяют МП и имеют специальную Систему, которая называется Комбинация.
Пока вы играете за Лу или Сиэля, неактивный персонаж стремительно восстанавливает 6 МП в секунду (1 МП в ПвП). Количество МП неактивного персонажа видно в третьей голубой полосе в интерфейсе.

Чтобы компенсировать высокую регенерацию, умения Лу и Сиэль имеют низкий урон. Это должно заставлять игроков постоянно меняться между Лу и Сиэлем, чтобы нанести максимальный урон.
Панель комбинации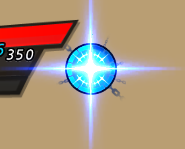 Лу и Сиэль имеют четвертую особенность, называемую Панель комбинации.

Это необходимо исключительно для комбинационных умений, таких как Наводнение души. Комбинационные умения не тратят ману и могут использоваться, только если Панель комбинации заполнена.

Панель комбинации имеет место для 10 очков комбинации.

Очки комбинации даются при каждой смене между Лу и Сиэлем во время обычной атаки или активных умений.

Два или больше очка комбинации даются при смене с помощью умений.

Сменная атака должна быть связана.
При смене во время комбо, прежде чем смениться на Лу или Сиэля, последний удар должен быть нанесен персонажу или противнику, иначе вы не получите очки комбинации.
Умения переключения
Меняет на Лу, если Сиэль активен, и дает очки комбинации.


Меняет на Сиэля, если активна Лу, и дает очки комбинации.

Комбинационные умения
Комбинационные умения считаются как специальные активные умения и могут быть использованы для завершения случайных миссий в подземелье.
Updates
02/12/2015 KR

Восстановление МП неактивного персонажа изменено с 15 МП до 6 МП (ПвП 6 МП → 3 МП)

02/26/2015 KR

Вы получите CP только в том случае, если комбо, которое меняет Лу на Сиэля, попадет в цель.
Прирост CP для специальных активных умений увеличен с 3 до 4

07/09/2015 KR

Исправлена ошибка, при которой CP давались даже при отмене навыка.

04/21/2016 (KR) / 05/18/2016 (NA)

Fixed issue of MP and Combination Gauge cut penalty while winning in PvP not being applied to standby character.
Пассивное восстановление МП для ожидающего персонажа уменьшено.
V переключение изменено с непобедимости на супер броню.
Shares cooldown if use any switching combo/skill besides V button.

06/30/2016 KR

V switching cooldown when switching from a non V key attack decreased.

03/30/2017 (KR) / 04/12/2017 (NA)

В специализации А максимальный МП уменьшен с 10 МП до 5 МП.
Восстановление МП ожидающего персонажа в ПвП было уменьшено с 1.5 МП до 1 МП.

04/27/2017 KR

CP за умения даются только при успешном попадании.
Character Systems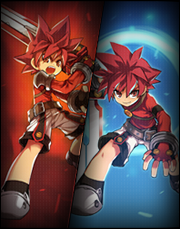 ---
When playing Elsword, there will be an additional bar below the mana gauge called Way of the Sword. This bar has 10 segments that, by default, contain 5 red Destruction slots and 5 blue Vitality slots, and depending on your actions, the bar will lean towards one color or 'aura' (from right to left for Destruction, from left to right for Vitality), replacing the other aura's slots. As long as an aura has at least one slot in the bar filled, you will receive special benefits depending on which aura you currently have active. The "Aura of Destruction" is selected by default, and you can switch between it and the "Aura of Vitality" by using the V key.
Depending on the type of skill you use, the bar will fill towards the right with blue Vitality slots or towards the left with red Destruction slots:
Flexibility/Tenacity skill: 1 slot
Strength skill: 2 slots
Bravery skill: 3 slots
Note that skills fill the slots contrary to their mode: vitality-based skills fill the bars with destruction slots; destruction-based skills fill the bar with vitality slots.
If the bar is filled completely by either aura's slots, the aura for the other mode will deactivate and you will enter a neutral stance with no benefits when it is toggled on, until at least 1 slot is re-gained for that mode. As such, the bar acts as a balancing mechanic so over-using one mode's skills can prevent that mode's aura from being active.