Diana
From Elwiki
Erilot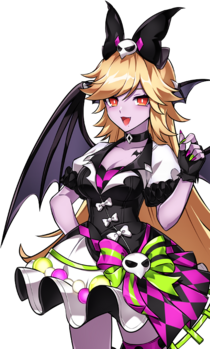 Description
A Succubus and one of Karis's generals during her conquest of the Sander region.
History
Gallery
Trivia
She calls Vasili by his nickname "Vasha".
Her Korean title, "에리롯드", is possibly a misspelling or corruption of "에릿로드", moving the "ㅅ" hangul one symbol over to the right. When written this way, the name reads "Erislord", matching Vasili's title of "Incoolord".
She appears to be significantly older than Vasili, apparently having been a Dream Demon since before he was even born.
Alternative Names
Server
Name
Translation
South Korea
디아나
에리롯드
Diana
Erilot
China (Simplified Chinese)
黛安娜
爱丽路德
Diana
Erilot
{{
Region 13~18

Region 1~6

Region 7~12

Region 19

Laby

Noah

Other
}}