User:Reczy
From Elwiki
Main Page
Description
Ad



Welcome to Elwiki, a multilingual database for the game Elsword, containing information from various servers. Elwiki specializes in North American and South Korean data, however all other data from other servers are welcome.

This wiki is currently maintained by anybody. Everyone is free to register and help contribute to the wiki to help build a complete database for Elsword. There are currently 18,028 articles in Elwiki.

Please read these rules before contributing to prevent any mistakes that could've been easily avoided

All rights are reserved (Official Art, Game Screenshots, etc.) to © KOG Studios, Nexon, Gameforge, and KOG Games (formerly known as Kill3rCombo)
KR Elsword Updates

Server Maintenance Date:
30 July 2020
Server Maintenance Time:
07:00 ~ 11:00 KST (GMT+9)

Patch Content:

---

Event Progress:

Pruinaum Update Event (July 16, 2020 ~ August 13, 2020)
Summer Elsword 2nd (August 01, 2020 ~ August 02, 2020)

---

---

NA Elsword Updates

Server Maintenance Date:
July 29, 2020
[Patch Notes]

---

Content and Event Updates:

Balance Patch implemented

El Search Party Growth Support Event

[Event details] (Lasts until August 11, 2020)

---

[More details] (Lasts until September 8, 2020)

TW/HK Elsword Updates

Server Maintenance Date:
Oct. 16th 2014
Server Maintenance Time:
HK: 10:00 - 15:00 (CCT)
TW: 08:00 - 14:00 (CCT)

---

Content Updates:

---

Ice Burners Progress:


EU Elsword Updates

Server Update Date:
5 August 2020
[Announcement]

---

Content and Event Updates:


[Master Class information]
[Event details] (Lasts until 12 August 2020)

[Dungeon information]
[Event details] (Lasts until 12 August 2020)

[Event details] (Lasts until 19 August 2020)

[Event details] (Lasts until 7 October 2020)

Support for the New Power! Part 1 Event

[Event details] (Lasts until 12 August 2020)

[Event details] (Lasts until 19 August 2020)

---

ID Elsword Updates

Server Maintenance Date:
July 29, 2020
[Patch Notes]

---

Content and Event Updates:

Balance Patch implemented

El Search Party Growth Support Event

[Event details] (Lasts until August 11, 2020)

---

[More details] (Lasts until September 8, 2020)
Featured Article of the Korea Server
New Releases
Upcoming Updates

List of Recently Updated Content
Latest Update: Debrian Laboratory

Patch Dates
Content
External Links
Corea del Sur
Norte America
Mayo 2, 2017
Mayo 31, 2017
Escenario de Evento: Cazador de Tesoros
KoG Games
Junio 1, 2017
Junio 14, 2017
Escenario Especial: Dimension donde habita la Oscuridad
KoG Games
Junio 15, 2017
Junio 28, 2017
Escenario: Corredor del EL - Inicio
KoG Games
Junio 22, 2017
Julio 5, 2017
Escenario: Corredor del EL - Juicio
Junio 29, 2017
Julio 12, 2017
Escenario: Corredor del EL - Elección
Julio 13, 2017
Julio 26, 2017
Nueva villa: Elrianode
KoG Games
Julio 13, 2017
Julio 26, 2017
Escenario: Santuario del Dragón del Agua
KoG Games
Julio 20, 2017
Augosto 2, 2017
Escenario: Ciudad de Elrianode
KoG Games
Julio 27, 2017
Augosto 9, 2017
Escenario: Centro de Investigación Debrian
KoG Games
Augosto 10, 2017
Escenario: Defensa de la Torre del EL
Invierno del 2017
3er Cambio de Clase

Read more: Debrian Laboratory
How you can help!
How you can help!
Here are several ways to contribute to Elwiki. Please add them; your help is appreciated <3
(If you add the information requested, please remove it from this list, thank you)
---
Please remember to specify which server you are referring to when adding skill information.
Provide the damage (in % form) of any basic combos for any job that lacks them.
Provide story quest numbers, names, requirements, and dialogues.
Add images for any allies/mobs/minibosses/obstacles/bosses that are missing from dungeon pages.
Using the Alternate Languages template, please help us record the various skill names from all servers. If the skill name that you are adding is identical to the title of the page, please do not add them.
Provide skill information to those that are lacking.
Add videos of any skill without one on their page yet or replace broken videos with working ones.
Correct any grammar / spelling errors that you may come across.
Character Systems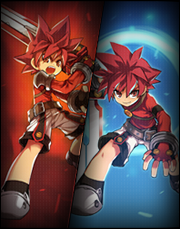 ---
When playing Elsword, there will be an additional bar below the mana gauge called Way of the Sword. This bar has 10 segments that, by default, contain 5 red Destruction slots and 5 blue Vitality slots, and depending on your actions, the bar will lean towards one color or 'aura' (from right to left for Destruction, from left to right for Vitality), replacing the other aura's slots. As long as an aura has at least one slot in the bar filled, you will receive special benefits depending on which aura you currently have active. The "Aura of Destruction" is selected by default, and you can switch between it and the "Aura of Vitality" by using the V key.
Depending on the type of skill you use, the bar will fill towards the right with blue Vitality slots or towards the left with red Destruction slots:
Flexibility/Tenacity skill: 1 slot
Strength skill: 2 slots
Bravery skill: 3 slots
Note that skills fill the slots contrary to their mode: vitality-based skills fill the bars with destruction slots; destruction-based skills fill the bar with vitality slots.
If the bar is filled completely by either aura's slots, the aura for the other mode will deactivate and you will enter a neutral stance with no benefits when it is toggled on, until at least 1 slot is re-gained for that mode. As such, the bar acts as a balancing mechanic so over-using one mode's skills can prevent that mode's aura from being active.